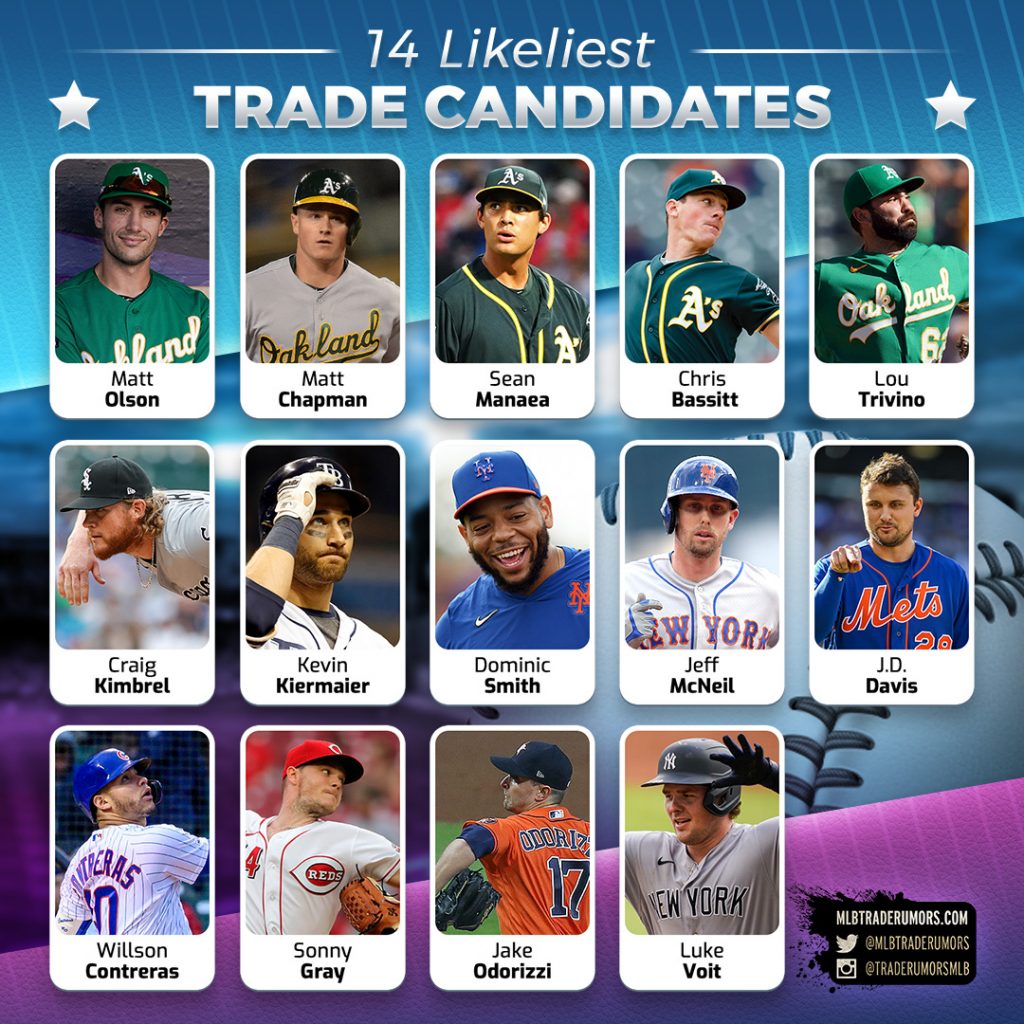 We saw robust free agent activity prior to the December 1st lockout, with 30 of our top 50 free agents signing contracts.  Over $2 billion was committed to 62 players on Major League contracts, by our count.
With all the focus on free agency, the trade market was relatively quiet.  Position players Tucker Barnhart, Adam Frazier, Jacob Stallings, Joey Wendle, Jorge Alfaro, Hunter Renfroe, and Jackie Bradley Jr. were the biggest names on the move.
Though the lockout does not appear close to an end, we can assume it will conclude at some point.  Once that happens, a scramble roughly four-to-six weeks in length seems likely to commence, in which both Spring Training and all remaining offseason transactions will take place.  Aside from the expected free agent frenzy for the top remaining names, the trade market figures to kick heavily into gear.
Recently, I got together with Steve Adams and Anthony Franco to assess the potential trade market.  We wound up putting trade candidates into several buckets.  The first bucket, covered in this post, is simply players we feel are likely to be traded, whether stars or regulars.  One caveat: many of these trade candidates are interconnected.  For example, the A's are almost certain to trade at least one of Sean Manaea, Chris Bassitt, and Frankie Montas, but we don't expect them to trade all three.  Without further ado, we present MLBTR's 14 Likeliest Trade Candidates:
1. Matt Olson / 1B / Athletics
The A's are widely expected to hold a fire sale as a means of reducing their payroll.  Olson, who we project to earn $12MM in 2022 through arbitration, seems highly likely to be dealt.  Olson is controlled for two more years through arbitration.  He provides huge power from the left side and is set to turn 28 in March.  Olson's 39 home runs were tied for fifth in the AL last year, as was his 146 wRC+.  Olson is not only known for his bat; his defense at first base ranked second in the game in the 2021 Fielding Bible Awards.  It's simply quite rare to find a 5-WAR player with two years of control like Olson available on the trade market; the last decent offseason comparable we can find is when the Marlins traded J.T. Realmuto to the Phillies three years ago.
There aren't too many teams that couldn't find a spot for Olson.  He's probably the one reasonable replacement for Freddie Freeman that Braves fans might find palatable.  The Yankees, Dodgers, Rays, Rockies, Marlins, Brewers, Phillies, Padres, and Giants are other speculative fits, especially if the DH comes to the NL as expected.  The Realmuto trade was led by Sixto Sanchez, considered a 65-grade prospect by Baseball America at the time of the deal.  Teams these days are extremely reluctant to part with prospects of that caliber, who generally fall within the top 30 in the game.  The A's are in the driver's seat as they look for the best overall offer.
2.  Matt Chapman / 3B / Athletics
The Matts have been teaming up at the infield corners for the A's since 2018.  It's quite possible both could be traded once the lockout ends.  Chapman has consistently been an above average hitter in every year of his MLB career, though in 2021 he was only a tick above average with a 101 wRC+.  In the three seasons prior, Chapman posted a 130 mark, hitting a career-best 36 home runs in 2019.  Combine that level of offense with Chapman's Gold Glove defense at the hot corner, and he was an MVP candidate in 2018-19.  He'll turn 29 in April.
Chapman's stellar defense – ranked second in the game at third base in the '21 Fielding Bible Awards – gives him a high floor even if his bat slips like it did in 2021.  Chapman is so good defensively at third base that ESPN's Buster Olney has reported that the Yankees talked internally about the possibility of acquiring him to play shortstop, which he has done for all of ten innings in the Majors.  The result is a player who is worth more than 3 WAR with an average bat, and 6+ when he's mashing.  A new team would look to solve Chapman's recent slide in contact and line drives at the plate, but the A's aren't selling Chapman quite at his peak.
Like Olson, Chapman is an arbitration eligible player with two more years of control remaining.  We project him to earn $9.5MM in 2022.  The Mariners, Blue Jays, Phillies, Yankees, Rays, Rockies, and Dodgers could be possible landing spots.
3.  Sean Manaea / SP / Athletics
The A's also have multiple strong trade candidates in their starting rotation.  We'll start with Manaea, who has only one year of control remaining and is projected to earn $10.2MM through arbitration.  Manaea, a southpaw who recently celebrated his 30th birthday, made 32 starts in 2021 with a 3.91 ERA.  While Manaea has a mid-rotation profile, he did show career-best velocity and his best swinging strike rate in '21, with his customary excellent control.
After a July 28th gem in San Diego, Manaea had his ERA down at 3.01.  He then posted a brutal 9.90 ERA in August before returning to form in September.  Manaea's Statcast indicators are not particularly impressive, whether you're looking at exit velocity or spin rate.
Aside from Carlos Rodon and Clayton Kershaw, Manaea is still better than just about every starting pitcher still available in free agency.  He'd benefit many teams' rotations, including the Tigers, Angels, Twins, Orioles, Yankees, Mariners, Rangers, Braves, Cubs, Rockies, Dodgers, Mets, Giants, and Nationals.
4.  Chris Bassitt / SP / Athletics
Bassitt, projected to earn $8.8MM in 2022, is yet another A's trade candidate.  It's unclear whether the A's would deal multiple starting pitchers, but again, we wouldn't rule it out.  Manaea and Bassitt make particular sense because both are headed for free agency after the '22 season.
Bassitt, a righty, is approaching his 33rd birthday.  Since 2020, he sports a 2.90 ERA in 220 1/3 innings – seventh in all of baseball for those with at least 200 innings in that time.  In 2021, Bassitt's 18.8 K-BB% was a career best.  Unlike Manaea, Bassitt also boasts above average Statcast indicators, especially an 88th percentile hard-hit percentage.  Whether that's enough for Bassitt to continue outpitching his SIERA as he has is unknown, but you can't argue with the results so far.
Bassitt suffered a scary injury in August when a Brian Goodwin line drive struck his face, but fortunately he was able to return for a pair of outings in September.  He should command a higher price on the trade market than Manaea, although the two pitchers are not that far apart in projections for 2022.
Wondering about Frankie Montas?  He's a trade candidate as well, but we've put him into more of a "plausible" bucket than "likely," and he'll be covered in an upcoming post by Steve Adams.
5.  Lou Trivino / RP / Athletics
Trivino makes it a quintet of A's to lead off this post.  The 30-year-old righty is a decent reliever projected to earn $2.9MM in 2022.  He still has three years of control remaining and he's not making a lot of money yet, but there's also not a compelling reason for the A's to hang on to him this offseason.
Trivino posted a 3.18 ERA in 2021, along with a 95.8 mile per hour average fastball velocity and 85th percentile hard-hit rate.  Still, his K-BB% was only 10.6.  After picking up his 21st save against the Giants on August 20th, Trivino's ERA stood at 1.72.  Then he went through a rough five-outing patch in which he allowed 13 earned runs in only 3 2/3 innings.  After that, Trivino recovered and pitched well in his final 11 outings.
Trivino doesn't have great control, and he hasn't always been a strikeout artist either.  So it's not an amazing profile, but he's had success at times and is affordable and controllable.  He can fit in somewhere as a seventh or eighth inning reliever.
6.  Craig Kimbrel / RP / White Sox
The Cubs' June 2019 signing of Kimbrel was going poorly until the 2021 season, when he put up a dominant 0.49 ERA and 46.7 K% in 36 2/3 innings.  The Cubs sold high and shipped Kimbrel across town to the White Sox for Nick Madrigal and Codi Heuer.  Kimbrel struggled with the Sox, posting a 5.09 ERA while being done in by the longball.  The White Sox still chose to pick up Kimbrel's hefty $16MM club option instead of taking a $1MM buyout.  They've already got Liam Hendriks in the closer role, and signed Kendall Graveman to a $24MM contract.
As I wrote in December, White Sox GM Rick Hahn spoke openly about trading Kimbrel, saying, "We've had conversations with other clubs and have a sense of what is potentially available." Hahn added, "It's easy to make the assessment that if you put him back in the closer's role, it's what he's accustomed to and he's more likely to have success." I don't find that to be a particularly reliable assessment: put Kimbrel back in a closer role, and he'll be good again.  That didn't prove true for the Cubs in 2019 or 2020.
I think the White Sox would very much like to trade Kimbrel, but they may have overestimated his popularity in the market at his salary.  Perhaps they'll need to kick in a few million or take a decent-sized contract back to make it more palatable.  I'm not sure if an intra-division trade could be worked out, but the Royals have spoken of trying to upgrade their bullpen.  The Rays, Rangers, Blue Jays, Marlins, Mets, and Phillies could make some sense, but only if the money can be worked out and if the White Sox finds a team that actually believes Kimbrel will succeed in '22.
7.  Kevin Kiermaier / CF / Rays
Kiermaier, 32 in April, has been the Rays' primary center fielder for the past seven seasons.  He's picked up three Gold Gloves in that time, and ranked third in the game in the '21 Fielding Bible Awards.  With the bat, a league average season is generally the best case scenario.  Kiermaier signed a six-year deal with the Rays back in 2017.  He's owed $12MM this year plus a $2.5MM buyout on a $13MM club option for '23.
Kiermaier has been involved in trade rumors for years, but this may be the point where the Rays finally pull the trigger.  Baseball America ranks Rays prospect Josh Lowe 44th overall in the game, noting that he plays a plus center field.  Lowe also posted a 142 wRC+ at Triple-A, so he appears ready to take over.  The club can also give center field innings to Manuel Margot, Brett Phillips, and Vidal Brujan.
Teams like the Phillies, Yankees, Braves, Cubs, Rockies, Marlins, Giants, and Nationals could be potential fits for Kiermaier.
8.  Dominic Smith / LF-1B-DH / Mets
And now we enter the Mets portion of the list.  Smith was the Mets' primary left fielder in 2021, but they added Mark Canha in free agency.  They've also got Pete Alonso locked in at first base and Robinson Cano set to DH.  A Smith-Canha platoon isn't in the cards, since the Mets aren't paying Canha $12MM this year to be the short side of one and Smith oddly hit lefties better than righties this year anyway.
There are certainly scenarios where Smith stays put, especially if the club decides they'd rather give him a good share of DH at-bats than Cano.  But, Smith doesn't really have a spot right now and he posted an 86 wRC+ in 2021.  It's possible the Mets are ready to move on.
Why would anyone be interested?  Keep in mind that Smith was drafted 11th overall out of high school back in 2013, and prior to the '17 season was considered a top-70 prospect in the game.  After struggling early in his career, he posted a 150 wRC+ over 396 plate appearances from 2019-20 and crushed both lefties and righties.  He seemed primed for a 30 home run season in '21.  Instead, Smith spent about three months as a regular in 2021 – May through July.  He had a 111 wRC+ in that time, but around August began sitting against lefties in favor of Kevin Pillar.
Smith is still only 26 years old.  He's projected to earn $4MM this year and has three years of control remaining.  I think many teams will be interested in giving him regular playing time at left field, first base, or DH.  The Guardians, Rays, Rangers, Cubs, Rockies, Phillies, Pirates, and Padres are a few that come to mind.
9.  J.D. Davis / 3B-LF / Mets
Davis is another Mets player who doesn't seem to have a spot in 2022.  He split time between left field and third base in 2019 and served as the club's primary third baseman in 2020.  This year, Davis began as the Mets' Opening Day third baseman, but spent significant time on the DL for a hand contusion and sprain, which ultimately led to surgery in October.  By August, Davis had fallen behind Jonathan Villar on the team's third base depth chart.  While Villar is now a free agent, the Mets brought Eduardo Escobar in and he's penciled in at the hot corner for '22.  As we mentioned before, the team also imported Canha for left field and may choose to give a lot of DH time to Robinson Cano.
Since Davis came to the Mets in a January 2019 trade with the Astros, all he's done is hit.  Davis has a 130 wRC+ in 893 plate appearances from 2019-21.  A right-handed hitter, he's gotten to face lefties a disproportionate amount in that time (34% of his plate appearances), but Davis has handled both lefties and righties well.  It's worth pointing out that since 2019, Davis' wRC+ ranks fifth among third basemen, and his work is only a hair behind Vladimir Guerrero Jr. and Jose Ramirez.
Aside from health, however, Davis' defense at both third base and left field has been below-average.  It's possible he shouldn't be logging 1,000 innings per year at either position.  On the other hand, we're likely headed toward a game with 30 DH jobs.  While it's true that teams generally prefer to use that spot to rotate players these days, the NL DH is undeniably of benefit to a player like Davis.  I'm not sure a contender would install him as a regular third baseman, but the bat certainly plays.
Davis, 29 in April, is projected to earn $2.7MM this year and has three years of control remaining.
10.  Jeff McNeil / 2B-LF-3B-RF / Mets
As the only one who has played second base or right field, McNeil is the most versatile of the three Mets trade candidates listed here.  As such, he's the least likely to be traded.  In fact, McNeil may end up as the team's primary starter at second base in 2022.
Still, the Mets felt the need to trade for Javy Baez and play him at second base last summer, and Cano got most of their second base innings in 2019 and '20.  Escobar is also capable of playing second base.  McNeil could serve in a utility role, but the club does have Luis Guillorme on the roster as well.  It's not too difficult to picture McNeil being traded, nor would it be surprising if he stays.  Since there is overlap in positions, all three Mets listed here are interconnected.  A trade of one may mean the others are safe.
McNeil started off his Mets career on fire, with a 140 wRC+ in 1,024 plate appearances over 2018-20.  Though that didn't constitute everyday playing time, he did rank 13th in all of baseball in wRC+ during that period.  A left-handed hitter, McNeil has always beat up on right-handed pitching, but he's plenty good against southpaws as well.  McNeil is a high-contact hitter, with the game's tenth-lowest strikeout rate from 2019-21.
Similar to Dominic Smith, McNeil's bat dropped off late in 2021.  McNeil was placed on the IL in May with a hamstring strain, knocking him out over a month.  He raked in July with a 155 wRC+, but fell to a 68 mark in the season's final two months.
McNeil doesn't have a ton of defensive innings at any one position, but his work at second base has been solid and there's a lot of value in his versatility and bat.  30 in April, McNeil is projected to earn $2.8MM this year and has three years of control remaining.
11.  Willson Contreras / C / Cubs
Contreras wasn't a heralded prospect until 2016, when he generated buzz before the season and took over the Cubs' starting catching job.  As a rookie, he was athletic enough to log 180 2/3 innings in left field as well.  Contreras has been an above-average hitter in each of his six seasons, which is especially impressive for a catcher.  Over the last three seasons, his 115 wRC+ ranks second in baseball among all catchers, even ahead of J.T. Realmuto.
Contreras ranked eighth among catchers in the 2021 Fielding Bible Awards, and his pitch framing has improved from earlier in his career.  WAR is always tricky with catchers.  FanGraphs sees Contreras more in the 2-3 WAR range per year, while Baseball-Reference has more 3-4 WAR type seasons on his ledger.
The 29-year-old Contreras is one of the last remaining players from the Cubs' 2016 championship club, along with Kyle Hendricks, Jason Heyward, and manager David Ross.  The Cubs have been unable or unwilling to extend Contreras, who is set to make around $8.7MM this year before hitting free agency.  Before the lockout, the Cubs signed Yan Gomes to a two-year, $13MM deal, giving the club insurance in the event they decide to trade Contreras.  At least, Contreras seemed to take it that way.
On the other hand, the Cubs struggled last year to find a decent backup catcher, and Gomes could help reduce Contreras' workload.  The Cubs have also supplemented the 2021 club with the pickups of Marcus Stroman and Wade Miley, so the team has at least some aim on contending.  A Contreras trade is not guaranteed, although it will be a seller's market for catchers when the lockout ends.  A midseason trade is a possibility as well.  The Yankees, Guardians, Mariners, Rangers, and Giants could be potential suitors.
12.  Sonny Gray / SP / Reds
Gray, 32, was able to increase his strikeout rate significantly after coming over to the Reds from the Yankees in a January 2019 trade.  He made the All-Star team and finished seventh in the NL Cy Young voting in '19.  His underlying skills haven't changed a ton since then, but his batting average on balls in play returned to normal and in 2021, more home runs left the yard.
Gray tossed 135 1/3 innings in 2021, spending time on the IL for back spasms, a groin strain, and a rib cage strain.  Still, after a fine July 7th start in Kansas City, Gray had his ERA down to 3.19.  He put up a 5.03 ERA in his final 14 starts to finish the season at 4.19, his worst mark in a Reds uniform.
Gray is under contract for $10MM this year, with a $12MM club option for 2023 that will likely merit consideration.  He seems to represent the clearest path for the Reds to cut payroll; we'll be addressing rotation-mates Luis Castillo and Tyler Mahle in a separate post.
The Reds have shown recently with the Raisel Iglesias trade and Wade Miley waiver claim that under pressure to slash salary, they can give up good players for little to no return.  Quite a few teams are likely eyeing up Gray with this in mind.
13.  Jake Odorizzi / SP / Astros
Last March, with Framber Valdez fracturing a finger on his throwing hand, the Astros made a late deal for Odorizzi.  After signing late, Odorizzi made his Astros debut on April 13th.   Weeks later, he hit the IL with a right pronator muscle strain that knocked him out for over a month.  In September, Odorizzi expressed frustration after being pulled from a start after only 66 pitches.  In the following start, he exited early with a foot injury.  Though he did return in the regular season, Odorizzi was left off the Astros' ALDS roster.
Heading into 2022, the Astros have seven healthy starting pitchers, and Odorizzi probably ranks last on that depth chart.  32 in March, Odorizzi is owed only $5MM this year.  He has a $6.5MM player option for 2023 with a $3.25MM buyout.
Odorizzi has significant contract incentives for 2022: $500K for 100 innings pitched, and then $1MM each at the 110, 120, 130, 140, and 150 inning marks plus $1.25MM at 160 innings.  You can imagine he won't be excited to serve as the Astros' long man to open the season.  The Astros might need to kick in some money or take back a contract, but Odorizzi can still help quite a few teams in the middle or back of their rotation.
14.  Luke Voit / 1B-DH / Yankees
Voit is currently projected to start at first base for the Yankees.  However, there's a decent chance they'll seek an upgrade, whether that's bringing Anthony Rizzo back, trading for Matt Olson, or even signing Freddie Freeman.
Though Voit hasn't been able to maintain the dizzying heights of 2018 (188 wRC+ in 161 PA) or 2020 (153 wRC+ in 234 PA), the problem has been more health than production.  This year, Voit appeared in only 68 games due to knee surgery, an oblique strain, and a bone bruise and inflammation in his knee.  He had four separate IL stints, but he's expected to be ready for spring training.
With Giancarlo Stanton signed through 2027, the Yankees might not be a good home for Voit, who might have an easier time staying healthy with regular DH time.  We project Voit to earn $5.4MM this year.  He fits with Dominic Smith and J.D. Davis on the trade market: an interesting bat without an ideal defensive home.
If you're wondering where a certain player was on this list, don't worry!  We've got all sorts of additional trade candidate posts on the way.