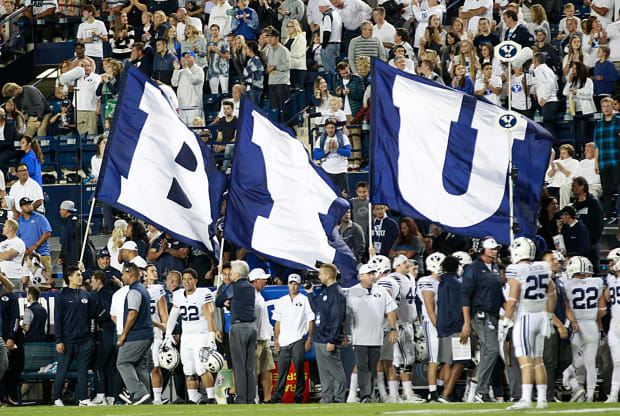 After having Oklahoma and Texas poached by the SEC, the Big 12 is going on the offensive. According to multiple reports, the league is eyeingBYU, Cincinnati, Houston, and UCF to bring membership back up to 12.
There have been plenty of rumors about what may happen with the Big 12 with Texas and Oklahoma on their way out the door by 2025. If more schools get poached by leagues like the ACC, Big Ten, and Pac-12, it may be hard to keep the league together. It does look like the league will try to be proactive by poaching some of Group of Fives, and potentially adding BYU, a competitive independent program.
According to college football insider Brett McMurphy, change to the league's ranks may happen very soon. Because BYU isn't in a league, he says that the Cougars could join the league as soon as next year.
"BYU is the Big 12's clear-cut top choice, sources said. Because the Cougars are an independent in football, adding BYU 'could be less complicated, but they have a lot of future scheduling contracts,'" McMurphy reports for the Action Network.
While there are some hurdles, namely future game contracts that BYU would need to work through, the Cougars could conceivably join ahead of 2022. The timeline isn't as simple for the three AAC powers, but McMurphy's sources remain confident that it could happen sooner than later.
For Cincinnati, Houston and UCF to leave the AAC, they must provide 27 months' notice and pay a $10 million exit fee. However, UConn was able to leave the AAC with only 12 months' notice and paying a $17 million exit fee.

Other schools have reached settlements to leave other leagues early in the past few rounds of conference realignment, without fulfilling their contracted exit requirements.

"I see this all happening sooner, rather than later," a source said.
For a few years, we may see a 14-team Big 12, before things drop back to 12. Of course, if schools like Kansas, Oklahoma State, or West Virginia get the call from other Power Conferences, the league will be thrown to a major loop once again.