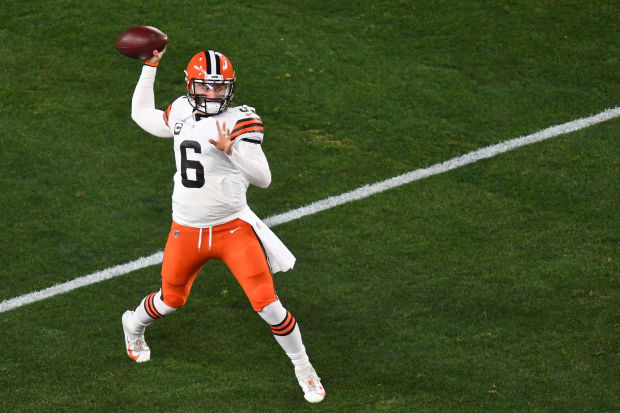 Four years ago, the Cleveland Browns made Baker Mayfield the No. 1 pick of the 2018 NFL Draft. Now they're trying to unload him.
More than a month after acquiring Deshaun Watson, Cleveland has yet to move Mayfield. At this juncture, any potential suitors may wait to see if they draft a quarterback instead.
Perhaps his trade market will pick up after the draft. One unlikely suitor could reportedly enter the picture.
The Athletic's Jeff Howe expects the Houston Texans to "be in the mix" for Mayfield and San Francisco 49ers quarterback Jimmy Garoppolo following the draft. He added that the Carolina Panthers and Seattle Seahawks could remain involved, depending on how the next three days unfold.
It'd be strange for Houston and Cleveland to pair up for another quarterback trade.
One would think the Texans would have asked for Mayfield as part of the Watson return if they wanted him. That didn't appear to be the case in March, as Cleveland.com's Mary Kay Cabot reported that they only wanted picks and saw Davis Mills as their 2022 starting quarterback. She also said Houston probably wasn't Mayfield's preferred landing spot.
It'd be interesting to see what has changed. Perhaps Cleveland's asking price has diminished, so Houston can acquire him cheaply rather than risk downgrading any of the three first-rounders received for Watson.
The Texans may also envision the Browns' leverage shrinking even more if the Panthers or Seahawks draft a quarterback.
Although Howe said the Texans could dip their toes back into the quarterback market, they're not expected to select one with the No. 3 or 13 pick on Thursday evening.