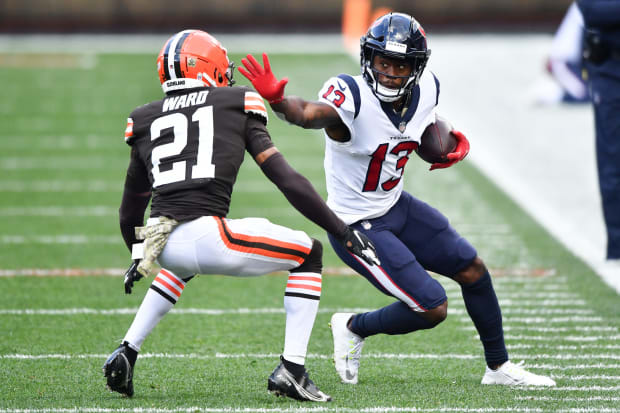 The Houston Texans are listening to overtures from teams regarding wide receiver Brandin Cooks. Reportedly, the Cleveland Browns are interested.
It makes sense that the Browns would want Cooks, who developed a strong connection with Deshaun Watson in Houston. Watson, of course, is Cleveland's new QB, acquired via blockbuster trade with the Texans last month.
However, the latest reporting from Cleveland.com's Mary Kay Cabot says it's "unlikely" that Cooks is Cleveland-bound.
"That's in part because the Texans might want a second-round pick for the 2014 first-round pick, and the Browns have already traded their first-rounder and fourth-rounder in 2022 to the Texans for Watson, as well as a third-rounder in 2023, and a fourth-rounder in 2024," Cabot wrote.
Cooks is also said to be seeking an extension from his new team. A 2014 first-round pick, the 28-year-old wideout has been a consistently underrated performer for four different teams over eight NFL seasons.
In 2021, Cooks caught a career-high 90 passes for 1,037 yards and six touchdowns. It marked the sixth time he's gone over 1,000 yards in a season.
Assuming Cooks is out of the question for the Browns, it might lead them to take a longer look at bringing back Jarvis Landry. Cleveland released Landry in a cost-cutting move earlier this offseason, but there is said to be mutual interest in a reunion.