Friday brought more clarity on the Deshaun Watson case. The accusers who have alleged the Texans quarterback committed sexual assault and/or sexual misconduct will be identified.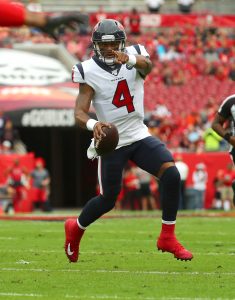 Going into Friday, two of Watson's 22 accusers had identified themselves. As of Friday morning, nine of the accusers were willing to reveal their identities. Houston courts ruled Watson's accusers must identify themselves to proceed with civil cases, Ian Rapoport of NFL.com notes. By Friday's end, at least 14 of the accusers will be revealed, Sarah Barshop of ESPN.com reports. The attorney representing the accusers, Tony Buzbee, said after Friday's hearing all of his clients who have accused Watson are prepared to be identified.
Additionally, Watson attorney Rusty Hardin said Friday sexual encounters did take place between his client and some of the massage therapists accusing him of sexual assault and misconduct, per Sarah Barshop of ESPN.com. Hardin, however, contends all of those encounters were consensual. He declined to specify how many masseuses with whom Watson engaged in sexual acts.
The 22 accusers' suits will also be consolidated into one, according to Rapoport (video link). This only applies to the civil suits Watson is facing. The Houston Police Department began an investigation into Watson last week, which will be separate from the civil process. The NFL is investigating Watson as well.
Photo courtesy of USA Today Sports Images.