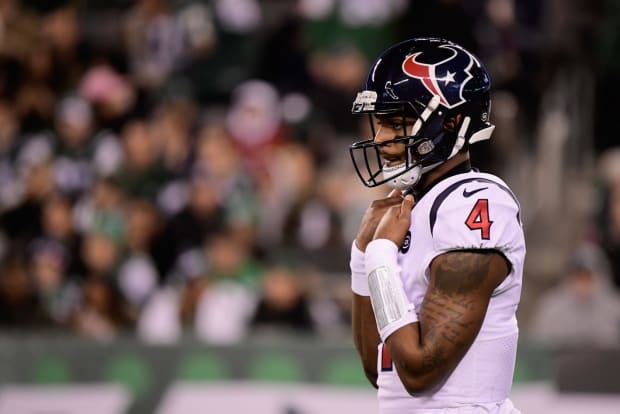 A number of teams are on hair-trigger awaiting the Deshaun Watson decision. But according to FOX Sports' Jay Glazer, the Texans quarterback is torn on where he wants to continue his career.
"Alllll these teams still waiting but realize Watson is torn with decision as it is a HUGE decision," Glazer tweeted. "They are all in holding pattern."
Watson has been linked to a number of teams in the NFC South. Including the Saints, Panthers and Falcons. The last of which seems to be getting the most traction. As Watson is from Georgia and has an emotional tie to the Falcons thanks to Warrick Dunn and Habitat For Humanity.
On top of that, Atlanta is reported to be meeting with five-time Pro Bowl wide receiver Jarvis Landry. Who paired with Kyle Pitts would make for a nice duo in the passing game. Though there are still a lot of holes on the Falcons' roster.
Watson will be looking for a reboot after what's been a bitter end in Houston. Once the franchise QB of the Texans, Deshaun Watson found himself in serious legal trouble and didn't take a snap the entirety of the 2021 season.
Since then, a grand jury has chosen it will not pursue criminal charges in his sexual misconduct cases. But, he still faces 22 civil lawsuits from women alleging acts those same acts.