On Monday, Deshaun Watson's legal team filed a written response to the lawsuits against him (Twitter link via NFL.com's Ian Rapoport). The lengthy document denies all allegations of sexual misconduct.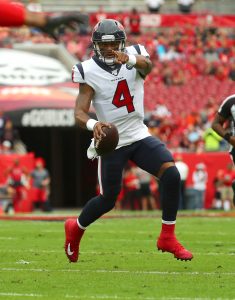 [RELATED: Texans Submit Offer To Nick Easton]
More than 20 women have filed civil lawsuits against Watson in recent weeks. Meanwhile, some of those women have contacted the authorities, raising the possibility of criminal charges. In his response, lawyer Rusty Hardin said that he wants a jury trial in order to give Watson a chance to clear his name.
Furthermore, Hardin claims that eight of the plaintiffs bragged about working with Watson while seven of the accusers "willingly worked" or "offered" to work with him after "their alleged incidents". He also claims that some of the accusers "lied" about the number of times they worked with Watson and told others that they wanted to get money out of the NFL star.
"It was not until the plaintiffs saw an opportunity for a money grab that they changed their stories to convert therapy sessions they bragged about to friends and family to something much more nefarious," Hardin wrote.
Meanwhile, Watson's football future remains in flux. Last week, Texans GM Nick Caserio declined to comment on Watson's status with the team.
"If you want to speculate, you should probably go buy Bitcoin," Caserio said.
One of the civil suits against Watson was dropped earlier this month. However, another plaintiff came forward a few days later to bring the total count back to 22.
Photo courtesy of USA Today Sports Images.