As Mike Florio of Pro Football Talk reports, the scheduling order signed by the presiding judge in the lawsuits filed against Texans QB Deshaun Watson has set Watson's deposition for February 22, 2022. That is over a week after Super Bowl LVI.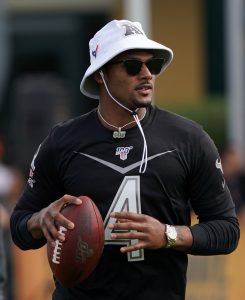 So unless there's a settlement prior to that date, then Watson would theoretically be able to play the entire 2021 campaign with Houston — if he is willing to drop his previous trade demands in light of his current predicament — or with another club if a rival GM is willing to take a career-defining risk. Florio predicts that Watson will report to Houston's training camp, and that's when matters will truly come to a head.
Indeed, there is a very real possibility that Watson will be placed on the Commissioner's Exempt list for an indefinite period of time, and perhaps until all 22 lawsuits are resolved. His first appearance at training camp could force Roger Goodell to make a decision in that regard one way or another.
Florio describes in a separate piece how the league's personal conduct policy applies to Watson's situation. The second paragraph of the paid leave section of the policy reads as follows: "when an investigation leads the Commissioner to believe that a player may have violated this Policy by committing any of the conduct identified above (relevant here is an act of sexual assault by force), he may act where the circumstances and evidence warrant doing so. This decision will not reflect a finding of guilt or innocence and will not be guided by the same legal standards and considerations that would apply in a criminal trial."
Obviously, the language "may have violated" gives Goodell a great deal of discretion in deciding whether or not to place a player on the Commissioner's Exempt list, and his decision will be guided in large part by PR considerations. Veteran NFL reporter John Clayton, writing for DenverFan.com, believes Watson may be suspended for a few games but will play in 2021, likening his situation to the sexual assault allegation that was levied against Steelers QB Ben Roethlisberger in 2010 (Roethlisberger was ultimately suspended for four games despite no criminal charges being filed).
It would seem, however, that the two matters are very different. For starters, Watson is facing 22 accusers, not "just" one. Plus, by the time Roethlisberger's suspension was announced, it had already been determined that he would not face criminal charges, and all of the relevant facts had already come to light. But Watson's deposition is not scheduled until next February, depositions of the 22 plaintiffs cannot commence until September 13, and the criminal investigation is ongoing. So it seems that if the league takes any action between now and a resolution of the lawsuits, it will come in the form of placing Watson on the Commissioner's Exempt list, not in the form of a suspension.
Photo courtesy of USA Today Sports Images.