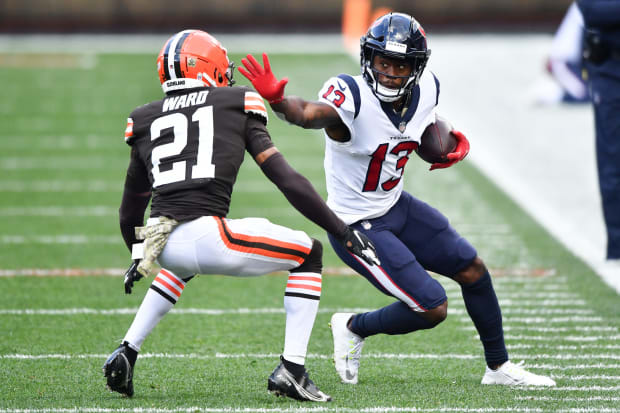 Despite all the trade rumors, the Houston Texans decided to sign Brandin Cooks to a contract extension. On Friday morning, NFL Network insider Ian Rapoport shared the latest on this development.
It's a two-year extension for Cooks that's worth the $39.6 million. Per Rapoport, $36 million of that contract is guaranteed for the former first-round pick.
Before the two sides agreed to this extension, Cooks was set to enter the final year of his contract. Now, he'll get to play this season without having to worry about not having any long-term security.
Last season, Cooks had 90 catches for 1,037 yards and six touchdowns. Overall, he's had at least 1,000 yards receiving in six of his eight NFL seasons.
The Texans have to be thrilled that Cooks will be staying in Houston for the foreseeable future. Not only is he a playmaker, he's a leader in the locker room.
"It seems like whenever you talk about Brandin, anyone, they talk about leadership," Texans coach Lovie Smith said at the NFL owners meetings, via ESPN. "You don't say that about everybody. You have to do something really well in order for people to describe you that way."
Cooks, 28, will be an integral part of the Texans for at least the next three seasons.