One of the civil suits against Texans QB Deshaun Watson has been dismissed, but as Samantha Ketterer of the Houston Chronicle writes, another lawsuit has been filed, which returns the total to 22. The newest accuser is a makeup artist who alleges, among other things, that at various points during two massage sessions, Watson asked her to put her hand on his penis and tried to kiss and grope her.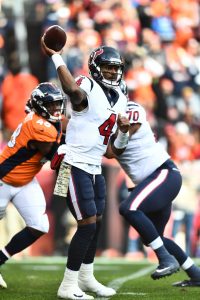 She also avers that Watson contacted her via social media to request a massage, at which point she made it clear that she was not a licensed massage therapist. Like all of the other plaintiffs, she is represented by Tony Buzbee.
Even more problematic for Watson is the fact that five of Buzbee's clients have now spoken to police, as Will Hobson of the Washington Post reports. We had previously heard that Ashley Solis — the first accuser to publicly identify herself — had contacted the Houston Police Department, which opened a criminal investigation earlier this month.
Hobson provides a comprehensive look at how this matter has unfolded, including Buzbee's initial communication with Watson's management at Athletes First. Buzbee claims that Scott Gaffield, general counsel for Athletes First, did not take the accusations seriously, and while Gaffield was willing to discuss a "reasonable" settlement for Solis — i.e. less than the $100K that Buzbee had offered on Solis' behalf — he was doing so just so that Watson "can learn a lesson about having put himself in this situation." Gaffield declined to comment for Hobson's story, instead referring a reporter to an earlier statement in which he expressed his belief that Watson did not engage in any wrongdoing.
Buzbee, both in his interview with Hobson and on Instagram, fired back at statements from Rusty Hardin, Watson's attorney, which indicated that any sexual interactions between Watson and Buzbee's clients were consensual. Hardin had suggested that Watson turned to social media to arrange for massages due to the pandemic, to which Buzbee replied, "Because of COVID, he was reaching out to dozens of different people on Instagram? For massages? … Because of COVID, you would think he would have one person who had tested negative."
Meanwhile, Hardin — who has accused Buzbee of taking part in a "new kind of extortion using social media and salacious innuendo" — did not speak with the Washington Post for very long, saying that he believes it would be better to address the inaccuracies of Buzbee's claims in the series of pleadings he plans to file next week as opposed to a newspaper article.
Photo courtesy of USA Today Sports Images.