In 14 months, Lovie Smith has gone from being dismissed as the University of Illinois' head coach to securing a third shot as an NFL HC. The Texans officially hired Smith on Monday, and the veteran defensive-minded coach will pull double duty in his next assignment.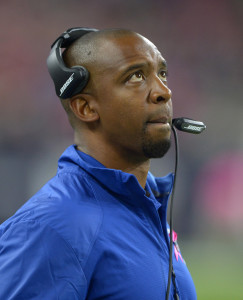 Smith, 63, will retain defensive play-calling responsibilities, Field Yates of ESPN.com tweets. The former Bears and Buccaneers HC had been in the college ranks for five seasons prior to resurfacing as the Texans' defensive coordinator last year. Now, he will wear two rather important hats for the rebuilding team.
GM Nick Caserio said Tuesday that Smith's hire did not take place because of Brian Flores' lawsuit against the NFL, via the Houston Chronicle's Brooks Kubena. Flores and Josh McCown were believed to be the final two in the running for the job. The longtime quarterback having never coached in the NFL likely played into Smith's hire, but Caserio predictably indicated the team had not made a decision until it landed on Smith. Caserio did not deny McCown remained in play for another role with the team, though Smith already has his offensive coordinator in place.
Pep Hamilton is in line to call Houston's offensive plays, being promoted from quarterbacks coach to offensive coordinator. While Hamilton's rise was on the radar before Smith entered the equation, Smith said keeping the Texans' QBs coach was "a must." One of Smith's first acts as Houston's head coach was communicating to Hamilton his importance for developing Davis Mills. A year after overseeing Justin Herbert's rise to Offensive Rookie of the Year as Chargers QBs coach, Hamilton helped Mills show promise down the stretch.
"Pep has an expertise when you look at his background," Smith said Tuesday. "What he did in Los Angeles with Herbert to where he did with Davis here. He is a fundamental coach who has a defensive mentality on toughness. I am so excited about him being on our staff and to see what he is going to do."
Smith is moving quickly on his assistants as well. The Texans are hiring George Warhop as their offensive line coach and Hal Hunter as his assistant, ProFootballNetwork.com's Aaron Wilson tweets. Warhop, 60, has now been employed as an O-line coach by a fourth of the NFL's teams. From 1996 through last season, Warhop has been with the Rams, Cardinals, Cowboys, 49ers, Browns, Buccaneers and Jaguars. Warhop's Tampa Bay stay began when Smith arrived in 2014. Warhop coached the Jags' O-lines for the past three seasons.
Hunter, 62, has extensive experience as well, including at the coordinator level. He spent the 2012 season as the Chargers' offensive coordinator, moving up to that post after coaching the previous six Bolts O-lines — groups that helped LaDainian Tomlinson secure first-ballot Hall of Fame entry. Hunter was last in the NFL as the Giants' O-line coach from 2018-19.
Houston is also hiring Tim Berbenich as its tight ends coach, Fox 26's Mark Berman tweets. This will be new territory for Berbenich, who spent last season as the Raiders' running backs coach. In 19 seasons as an NFL assistant, Berbenich has primarily coached running backs, wide receivers and quarterbacks. He was a Colts staffer during each of Hamilton's three years as Indianapolis' OC.