This week, Deshaun Watson's lawyer requested that one of his anonymous plaintiffs be identified. On Friday, the attorney representing Watson's accusers said that nine of his 12 clients are willing to put their names on their lawsuits (Twitter link via Aaron Reiss of The Athletic).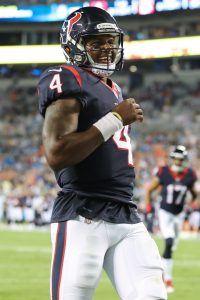 To date, only two women has been willing to go public with her identity. Now, the majority of Tony Buzbee's clients are willing to go on the record. That could prove to be a huge barrier for the quarterback's defense.
In total, 22 women have accused the Texans quarterback of sexual assault or misconduct. Ashley Solis — the first woman to publicly identify herself — recently spoke with Houston police, potentially taking Watson from civil suits to criminal charges. Solis says Watson touched her with his genitals during a massage session — other accusers have made similar claims in recent weeks.
Watson's attorney, Rusty Hardin, says Solis sought a $100K settlement before she filed suit. Hardin also disclosed emails discussing the settlement, though such pre-litigation communications are fairly standard in civil matters.
Meanwhile, the Texans are closely monitoring the situation, along with the league office.
In a letter to season-ticket holders Monday, the Texans addressed the Watson developments.
"We want to assure you that we take these allegations very seriously," the McNair family said in a statement. "While we await the conclusion of these investigations, we express our strong stance against any form of sexual assault. Our family and the entire Houston Texans organization are deeply troubled by any form of abuse and we condemn this type of behavior."
Photo courtesy of USA Today Sports Images.