After finishing the 2021 season as one of the five teams with the lowest passing yardage totals, the Texans made some moves this offseason to address their passing game. Houston utilized the draft in order to bring in some high-level, young protection and weapons for their second-year quarterback. As Houston starts to work towards a final regular-season roster, the Texans are looking to have a solid two-deep throughout the wide receiver position on their depth chart.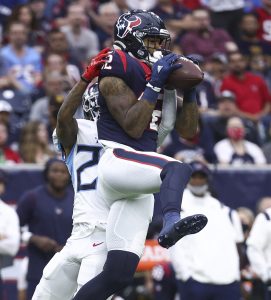 The top three receivers on the depth chart are easy decisions. Brandin Cooks is going into his third year with the team after coming over from the Rams. The eight-year veteran has taken a leadership role in Houston's receivers room, leading the team in receiving yards and receptions during both years with the team. Cooks acted a bit as rookie quarterback Davis Mills' security blanket last year, getting more than twice as many targets as the next receiver on the team.
The other two receivers in the starting lineup are inexperienced but promising. Second-year receiver Nico Collins stepped up during his rookie season. In the absence of Will Fuller, the team's No. 2 receiver in the prior season, the third-round pick was second on the team in receptions and receiving yardage despite missing three games. Collins could have a breakout season with the development of Mills and Brevin Jordan, the expected starting tight end, as well as the draft addition of John Metchie III.
Metchie was drafted in the second-round this year to add another spark to the room. In his two full seasons at Alabama, Metchie totaled 2,058 receiving yards on 151 catches with 14 touchdowns. The only reason not to project Metchie to surpass Collins this year is the fact that Metchie is still recovering from a torn ACL suffered in Alabama's SEC title game this past season. Houston drafted him with the understanding that he may miss some time to start his career but sounded hopeful recently that he could play this year.
Beyond the starting three of Cooks, Collins, and Metchie, Houston has a few solid backup options. Veteran Chris Conley returns on another one-year deal after finishing third on the team in receiving yards last season. Conley had shown the ability to be a starter during his time in Jacksonville. His best career season came as a Jaguar when he started 14 games, catching 47 balls for 775 yards and five touchdowns.
Another veteran returning on a one-year deal is midseason addition from last year Phillip Dorsett II. Dorsett's career has been largely disappointing as a former first-round pick out of Miami (Fla.). His career highs for a season are 59 catches for 528 yards during his second year in Indianapolis and five touchdowns during his last season in New England. The deep threat will continue his search for the right team fit as a back up in Houston.
A sixth roster spot is likely going to come down to Chris Moore or Chad Beebe. Moore signed with Houston last year after five years in Baltimore that slowly saw his usage decline toward the end of his tenure. In his first season with the Texans, Moore was able to catch a career-high 21 passes, recording 227 yards and two touchdowns as a result. Beebe had the best statistical season of his career during his third season in Minnesota (2020). Very similar to Moore, Beebe had 20 catches for 201 yards and two touchdowns. Both may find their way onto the roster through special teams roles, though, as Beebe has punt return experience from his time with the Vikings and Moore has kick return experience from his time with the Ravens. Houston's main return man from last year, Andre Roberts, is now with the Panthers, though they did utilize defensive back Desmond King II on punt returns last season.
That's the six- to seven-deep Houston will work with to start the season: Cooks as a bona fide No. 1, Collins and Metchie striving to be effective early in their careers, and a stable of veterans ready to contribute. On paper, it doesn't look like a huge upgrade, but the potential for a break-out season from Collins and the addition of a potential new No. 2 receiver in Metchie, could really open things up for Mills and the Texans offense.