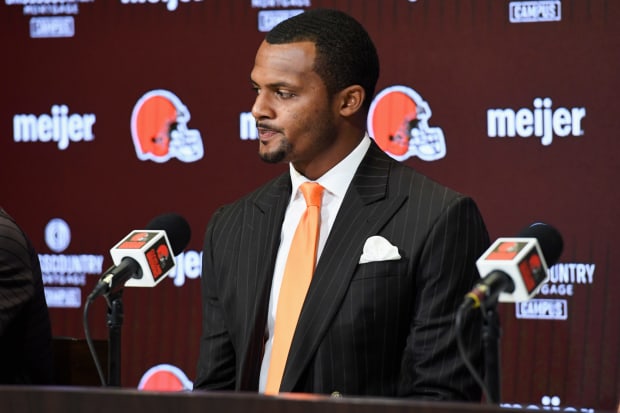 The lawyers in the civil cases involving Deshaun Watson have reportedly reached an agreement that no trials will be held from August 1, 2022 through March 1, 2023.
That means, essentially, that no cases will be held during the 2022 NFL season.
Watson, of course, was traded from Houston to Cleveland earlier this year. The former Texans quarterback was accused of sexual misconduct by more than 20 women, though no criminal charges are being filed.
However, Watson remains involved in potential civil cases.
Pro Football Talk had more:
Tony Buzbee, who represents the 22 plaintiffs, told the Plain Dealer that he hopes to get a trial set for July. If that isn't feasible, he hopes to have all 22 cases ready to go in March 2023.

Lingering over the entire controversy is the question of whether the case proceeds with one trial involving all claims or 22 different trials. We've previously gotten the sense from talking to persons with knowledge of the litigation that the cases would be tried one at a time. For 22 trials, that could take most if not all of the 2023 offseason, with one case after another after another after another.
Fans aren't very surprised by the news, though it will be interesting to see what happens punishment-wise for Watson.
The NFL can still hand down a suspension or more for Watson.
Watson was traded from Houston to Cleveland in the biggest blockbuster of the NFL offseason. However, the allegations against him are not going away, even if no criminal charges are being filed.
This might not get resolved until after March of 2023.