The Jets reportedly considered moving Le'Veon Bell ahead of Tuesday's trade deadline, and the veteran running back says the Steelers, Packers, Chiefs, and Texans all expressed interest in acquiring him. Appearing on his SiriusXM show "17 Weeks," Bell said he heard through his agent that those four clubs were trying to trade for him, as Joshua Axelrod of the Pittsburgh Post-Gazette writes.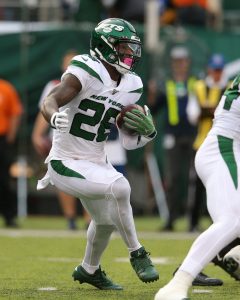 Pittsburgh, clearly, is the most surprising possible destination mentioned by Bell, as he just left the Steelers organization after a tumultuous 2018 in which he sat out the season rather than play on the franchise tag. Given all that went down between Bell and the Steelers, it's difficult to imagine Pittsburgh's management re-acquiring the running back, even if he is now placated with a long-term contract.
The Packers, too, seemingly don't make much sense as a landing spot given the continued breakout of Aaron Jones and the steady presence of backup Jamaal Williams. Houston, meanwhile, has already traded for two running backs — Duke Johnson and Carlos Hyde — and John McClain of the Houston Chronicle says the Texans were not interested in picking up Bell (Twitter link). Kansas City has deployed LeSean McCoy and Damien Williams with middling results.
"The Jets were really asking for a high price and a lot for me," Bell said. "On top of that, my actual contract was kind of tough for teams to deal with, which is understandable. Not too many teams want to pay that high of a price for a running back.
"To be honest, I was not trying to take a pay cut, simply for the fact that I sat out a full year of football to get what I earned and deserved. That would've kind of defeated the whole purpose, so I didn't want to do that."
Bell's remaining salary in 2019 would have been manageable for just about any team in the NFL, but he's owed more than $13MM in 2020 between his base salary and roster bonus. Most of that money is fully guaranteed, so a club like the Steelers (who have less than $4MM in available 2020 funds) would have been hard-pressed to take on that contract.