One of the lawsuits against Deshaun Watson has been dismissed, according to attorney Rusty Hardin (Twitter link via NFL.com's Tom Pelissero). Of course, this was just one of 22 civil lawsuits that have been filed against the Texans quarterback, so he still has a long road ahead.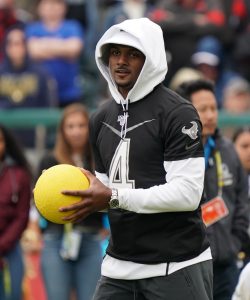 [RELATED: Texans Distancing From Deshaun Watson?]
Earlier this month, a judge ruled that more than half of Watson's accusers would have to reveal their identities. Meanwhile, the lawyer for the opposing side said that all of the plaintiffs would do so.
"We believe we have names for 20 of the 22 lawsuits. We've got one dismissed and we're looking for one [name]," Hardin said.
Hardin's comments didn't specify whether the dismissed case was settled, or if the accuser dropped the suit for other reasons. The plaintiff has since reached out to Sarah Barshop of ESPN.com (on Twitter), explaining that she has dropped her lawsuit "for now" "in light of privacy and security concerns.
"[The] plaintiff reserves the right to refile this case once such concerns are addressed," the court document reads.
Watson is still facing 21 civil suits and the potential for criminal charges after one accuser — Ashley Solis — contacted Houston police. Hardin says that Solis, the first accuser to publicly identify herself, sought a $100K settlement before she filed suit.
Photo courtesy of USA Today Sports Images.