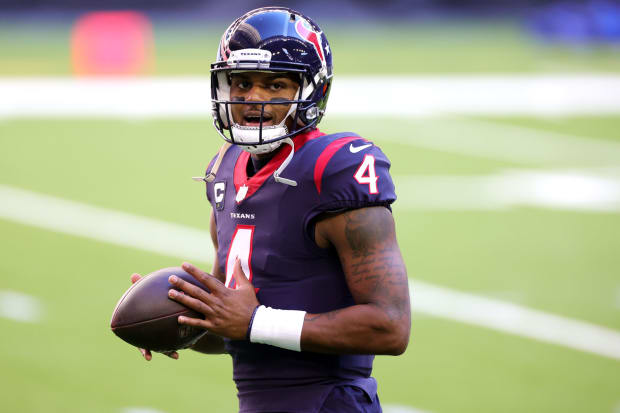 Football fans of several NFL teams – and plenty of free agents – are waiting to see where Deshaun Watson will choose as his next destination.
Over the past few days, Watson met with the Atlanta Falcons, Carolina Panthers, Cleveland Browns and New Orleans Saints. The Panthers and Browns have reportedly been trimmed from that list.
Earlier today, reports suggested Watson would choose between the Falcons and Saints at some point today. However, the latest news suggests otherwise. According to a new report from NFL insider Aaron Wilson, Watson might not make a decision until this weekend.
"Deshaun Watson currently expected to take next few days and contemplate his decision over weekend," Wilson said. "[He'll choose which] team he'll waive his no-trade clause for, and Falcons have pushed back Matt Ryan's $7.5 million roster bonus from Friday to Tuesday."
Fans have been waiting, somewhat impatiently, for a potential Watson trade dating back to last offseason. While it may have taken longer than anyone expected, it certainly seems like he'll be traded soon.
As for where he lands, it's anyone's guess right now. The NFC South appears to be close to gaining a new star quarterback, but the Falcons and Saints will just have to wait for now.