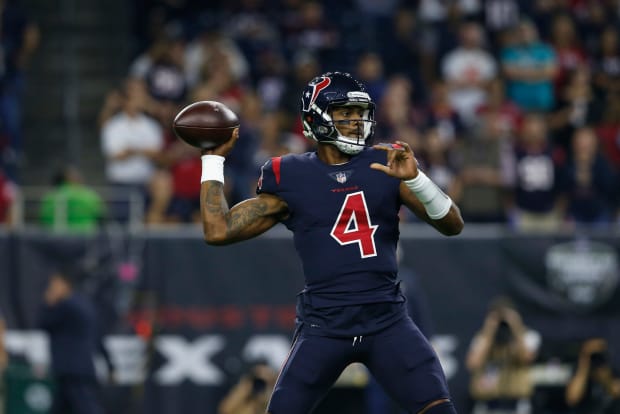 It feels like the NFL has been on hold waiting for Deshaun Watson to announce where he'll resume his career. Fortunately, he's expected to make a decision very soon.
According to NFL Network insider Tom Pelissero, the belief around the league is that Watson will make his decision today.
The Browns, Falcons, Panthers and Saints all met with Watson this week. So far, he has eliminated Cleveland from the sweepstakes.
Atlanta and New Orleans are considered the top two suitors for Watson, but Carolina hasn't been told that it's out of the running just yet.
ESPN insider Jeremy Fowler recently said that Watson "felt the love" when hearing Atlanta's plan for him.
"After asking around, feeling is Falcons have stood strong in Deshaun Watson process and Watson has felt the love as far as the team's plan and recruitment, with many people reaching out," Fowler tweeted. "Falcons can load up in 2023 w/ ample cap space. Short term, can add FA WRs and RBs pieces."
The Panthers and Saints are still considered suitors for Watson, but he has a preexisting connection with the Falcons.
Not only was Watson a ball boy for the Falcons back then, he has a strong relationship with team owner Arthur Blank.