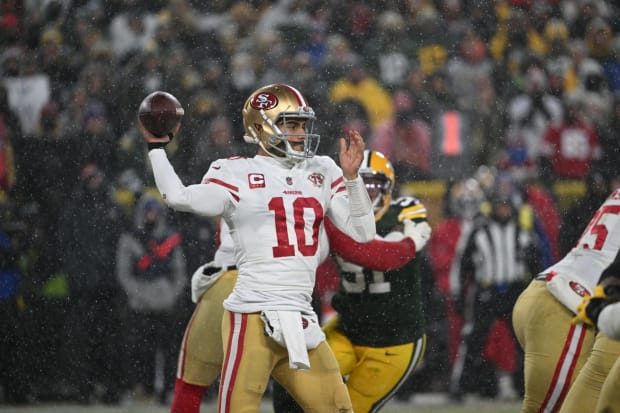 All is quiet out on the Jimmy Garoppolo trade front. However, the Houston Texans could reportedly be in play for the San Francisco 49ers quarterback following the 2022 NFL Draft.
The Texans have said multiple times already that they like Davis Mills. He could even become their franchise quarterback at some point. But the AFC South organization apparently isn't committed to the Stanford grad just yet.
Jeff Howe of The Athletic expects the Texans to be in the mix for Garoppolo and even potentially Baker Mayfield following the 2022 NFL Draft.
"The Texans do like Davis Mills, but I'd expect them be in the mix for Jimmy Garoppolo or Baker Mayfield after the draft," Howe said on Twitter.
Considering the Texans didn't want Mayfield in the trade that sent Deshaun Watson to Cleveland, it's hard to imagine they all of a sudden want him now.
"I don't buy the Texans would go after Baker. If they wanted Baker he would've been in the Watson trade," a fan said.
Garoppolo, on the other hand, is a proven veteran and a solid locker room presence. He makes some sense for the Texans.
"Teams will likely still have a QB need post-draft. Jeff lists the Texans, Panthers and Seahawks here," 49ers Info tweeted.
"Davis Mills stans and hopefuls are shook. Mills has & continues to be a MASSIVE TRADE AWAY CANDIDATE. I haven't wavered on this point all offszn. QBs drafted outside Rd 1 are big outliers to be long term answers. We do this every year. Welcome to this year's Gardner Minshew," a fan wrote.
Will Jimmy Garoppolo be the Houston Texans' starting quarterback this upcoming season?