Embattled quarterback Deshaun Watson won't be with the Texans when they begin OTAs (Twitter link via NFL.com's Tom Pelissero). Despite everything else going on in Watson's world, the longtime Houston star still wants to be traded, Pelissero hears.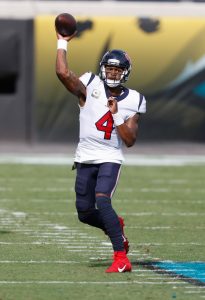 Watson's rift with the Texans was the big storyline to start 2021, with the Panthers and other contenders rushing to the phones. Then, a slew of allegations started to trickle out in the spring. To date, Watson and his attorney have denied wrongdoing in the 20+ cases. Meanwhile, his deposition is set for February of 2022 — after Super Bowl LVI.
Watson could be free to play in the interim, if he's not parked on the Commissioner's Exempt List. If he's cleared to play by the league office, the easiest path to the field would be to try and mend fences with the Texans. For now, GM Nick Caserio isn't saying much regarding the situation.
"If you want to speculate, you should probably go buy Bitcoin," Caserio said recently.
Watson, 26 in September, led the league with 4,823 passing yards in 2020 — a new career-high. He also set new personal bests with 33 passing touchdowns and a 70.2% completion rate. Given his ongoing legal situation it's unclear if any team would actually trade for him right now, or what they'd give up if they would.
Certainly, the compensation would be something less than the earth-shattering mega package they would've received a few months ago. Either way, it doesn't sound like the allegations have done much to alter Watson's firm stance, and it sure doesn't seem like he'll be reporting any time soon. Assuming the two sides don't reconcile, the Texans have a few options.
They signed Tyrod Taylor, a serviceable veteran bridge guy. They also drafted Davis Mills 67th overall from Stanford, and signed backup journeyman Jeff Driskel.
Photo courtesy of USA Today Sports Images.