Deshaun Watson has been removed from the intro video to the team's online TV show (Twitter link via Rivers McCown of The Athletic). Though it may seem trivial, it's another indication that the Texans are preparing for a future without the embattled quarterback.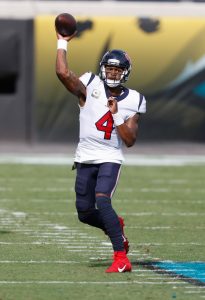 [RELATED: Deshaun Watson Accusers To Be Identified]
At last check, 22 lawsuits have been filed against Watson this offseason. In addition to the civil cases, Watson will also face an investigation from the league office. Criminal charges could also be in play now that authorities have been contacted by some of the accusers. The allegations from massage therapists range from sexual misconduct to assault.
The Texans spent the early part of the year trying to convince Watson to stay, rather than demand a trade out of Houston. Now, things are far more complicated. The Panthers were said to be Watson's most fervent suitor — last week, they acquired Sam Darnold from the Jets, taking them out of the running. From a football perspective, plenty of teams would want Watson, but the ongoing situation means that he's probably untradeable.
As the lawsuits and investigations continue to play out, it seems increasingly likely that Watson will wind up on the Commissioner's Exempt list, which would bar him from taking the field while still collecting his salary.
Watson, 26 in September, led the league with 4,823 passing yards in 2020 — a new career-high. He also set new personal bests with 33 passing touchdowns and a 70.2% completion rate.
Photo courtesy of USA Today Sports Images.