The Texans added to their receiving corps when they selected former Alabama wideout John Metchie in the second round of the draft. Long before his entry into the NFL, though, it was widely known he would miss considerable time in his rookie season.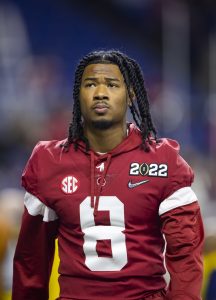 Metchie suffered a torn ACL in the SEC title game this past season, hurting not only the Crimson Tide's offense but his draft stock as well. Fortunately, it came out days before the draft that both he and Alabama teammate Jameson Williams were making good progress in their respective recoveries. Head coach Lovie Smith recently spoke about his current health status.
"We're in the process of seeing exactly when John would be ready to go" Smith said, via Aaron Wilson of Pro Football Network. "Eventually, he will be ready to go. There's a lot that he can do before that. He's not 100% yet, but in time he will be."
Brooks Kubena of the Houston Chronicle reports (on Twitter) that the team will have a clearer picture of his recovery timetable "in a couple weeks". Overall, optimism is shared by both the Texans and Metchie himself that he will be available at some point in 2022. The latter stated at the draft that he would be fully healthy by July, which would likely represent an unrealistically hopeful best-case scenario. As long as he is able to get on the field at some point in the fall, he will be able to start showcasing the talent which, before the injury, made him a first-round prospect.