The Texans escaped with a close win over the Raiders on Sunday, but they also suffered a huge loss. The team fears that star defensive end J.J. Watt tore his pec and will miss the rest of the season, according to Ian Rapoport of NFL Network (Twitter link). Shortly after Rapoport's report, Watt confirmed the news himself on Twitter.
"This game can be beautiful and it can also be brutal. Absolutely gutted that I won't be able to finish the season with my guys and give the fans what they deserve. I truly love this game and can't stand letting you guys down. Thank you for all of the thoughts & well-wishes," his tweet read.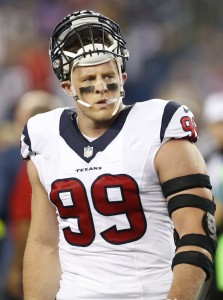 It's a massive blow to Houston's defense, which is already pretty banged up. It's also devastating for Watt, who has had brutal injury luck the past few seasons. Watt appeared in only three games in 2016, and five in 2017. Back issues cost him most of 2016, with a plateau fracture ruining his next campaign. He appeared in all 16 games last year, and racked up 16 sacks. He'd been strong again this year, with four sacks and 20 quarterback hits through Houston's first seven games.
The Texans are in a tight race in the AFC South, and this is the last thing they needed. Players have been dropping like flies in their secondary, including top cornerback Bradley Roby. Watt will be 31 when next season kicks off, and coming off his third major injury in four years. The three-time Defensive Player of the Year is under contract through the 2021 season.
Watt has been playing at a really high level, and is the undisputed leader of the team's defense. The Texans traded away Jadeveon Clowney right before the start of the season, who they could certainly use now. With the trade deadline just a couple of days away, it's possible the Texans will now explore the market for a veteran pass-rusher.