As expected, the Texans have hired Lovie Smith as their new head coach. The team announced that their defensive coordinator has earned the promotion to HC. We heard earlier today that the organization was moving towards hiring Smith as their next head coach.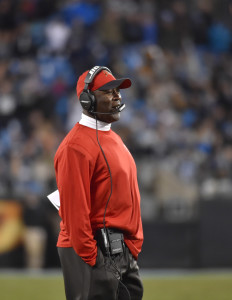 "The last couple of seasons have been disappointing, but I believe in the vision Nick Caserio has for our football team moving forward and I see the pieces coming together," said Texans Chair and Chief Executive Officer Cal McNair (via the team's website). "Our goal here is to create an environment that's conducive to winning on a day-to-day basis and compete for championships. I've had an extreme amount of respect for Lovie for years now and that only grew with the work he did last season and throughout this process. I'm excited for him and his family as we continue to evolve as an organization."
Smith brings a wealth of experience to the table, having been a head coach for 16 of the past 18 years between the NFL and NCAA ranks. His longest stint on any one sideline was as HC of the Bears between 2004 and 2012. That stretch included a Coach of The Year award, along with a Super Bowl appearance not long after. From then on, though, his time in Chicago generally went downhill; an unsuccessful two years as the HC in Tampa Bay (which came after interviewing in Houston) certainly didn't help his chances of another opportunity to lead an NFL team. 2021 was his first and only season as the DC in Houston, a year in which the defense did show signs of improvement.
Smith wasn't initially considered to be a candidate for the gig, with Dolphins HC Brian Flores, Eagles defensive coordinator Jonathan Gannon and recently retired quarterback Josh McCown all considered as favorites at one point. Smith only emerged as a legitimate candidate this past week.
The team also announced that they've promoted Pep Hamilton to offensive coordinator and will retain Frank Ross as their special teams coordinator. Hamilton, 47, has had a long coaching career, including a three-year stint as the Colts offensive coordinator. He joined the Texans last offseason, catching on as the team's passing game coordinator and quarterbacks coach. He was considered for the OC job in Jacksonville this offseason.