Deshaun Watson may be playing elsewhere, but the Texans are still very much involved in the quarterback's ongoing legal issues. Attorney Tony Buzbee announced that he is including the Houston Texans organization in the lawsuits against Watson (via Mary Kay Cabot of Cleveland.com on Twitter).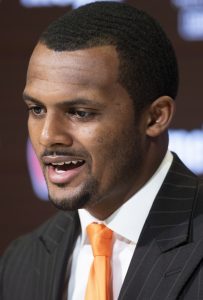 [RELATED: Latest On Browns QB Deshaun Watson]
"Based on what we have learned from the Houston Police Department, we will soon be joining the Houston Texans organization and others as defendants in the ongoing lawsuits against Deshaun Watson," the attorney wrote in a message. "Our team has thoroughly vetted each case. We are considering many others. These women are the true heroes in this sordid story. What has become clear is that the Houston Texans organization and their contracting "massage therapy company" facilitated Deshaun Watson's conduct. In many of these cases, the Texans provided the opportunity for this conduct to occur. We believe the Texans organization was well aware of Watson's issues but failed to act. They knew or certainly should have known. The Houston Texans organization provided rooms for Watson at the high-end Houstonian hotel for his "massages"; the Texans also provided massage tables and other support for Watson's proclivities – ostensibly to protect their "asset." We intend to make sure all involved in Watson's conduct are held accountable, in addition to and including Watson himself."
The Texans released a statement responding to the impending lawsuit (via Aaron Wilson of ProFootballNetwork.com on Twitter):
"We take accusations of this nature that involve anyone within the Houston Texans organization seriously. We will await further information before making any additional statements on this incident."
Wilson also cites the organization's statement from March of 2021, when the Texans said they only became aware of the lawsuit that month and hadn't previously "heard of the matter."
Buzbee's talks with the Houston Police Department and lawsuit announcement follows yesterday's New York Times report that Watson received massages from at least 66 women over a 17-month span from fall 2019 to spring 2021. Civil testimony included in the NYT report had Watson admitting that the Texans helped him with an nondisclosure agreement in 2020, and the player took NDAs to all future massaging sessions. The report also noted that the Texans set up Watson with a membership at the exclusive hotel that the attorney mentioned in his statement. Effectively, Buzbee is alleging that the organization either knew or should have known about Watson's conduct before everything came to light.
The Browns QB has continued to deny any wrongdoing. The NFL has just about wrapped up their investigation, and a suspension is likely to be announced at some point in July.