One of the top remaining edge rushers is off the market. Jerry Hughes is signing with the Texans, as first reported by Jordan Schultz and confirmed (on Twitter) by Pro Football Network's Aaron Wilson.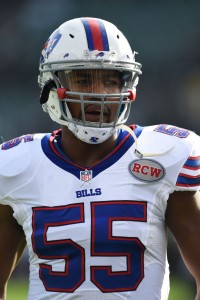 Hughes, 33, began his career in Indianapolis in 2010. He played a reserve role for the first two seasons of his career, but took on a much larger workload the following year. He started six games, totalling 41 tackles and four sacks. During the subsequent offseason, though, he was traded to the Bills.
It was in Buffalo that he enjoyed the bulk of his success. Starting 127 of 144 games with the Bills, Hughes put up back-to-back seasons with 10 sacks in 2013 and 2014. Since then, he has remained a consistent presence on the edge of the Bills' defense. His level of play earned him a two-year extension in 2019, though the 2021 campaign saw him put up the lowest totals of his tenure in western New York (18 tackles, two sacks).
This offseason, the Bills have made changes in the edge room, including, most notably, the signing of Von Miller. In large part because of that deal, Hughes and Mario Addison were forced to find new homes. The latter has already signed in Houston, making him one of a few notable faces for Hughes. Another is defensive line coach Jacques Cesaire, who previously worked on the Bills' staff.
As a Sugar Land native and TCU alum, this deal also marks a homecoming for Hughes. Even if he isn't able to replicate his best years, he should have a notable role to play on what could be a much-improved Texans defense in 2022.