Today marks the one-year anniversary of the Rams trading Brandin Cooks to the Texans. The deal netted the Rams a second-round pick in exchange for the wide receiver and a future fourth-round choice. For Cooks, it was familiar territory — this was the third trade of his career.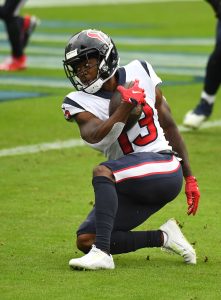 [RELATED: Patriots Trade Cooks To Rams] 
Cooks, who was still only 26 at the time, was well-traveled at this point. Two years prior, the Patriots sent him to L.A. (along with a fourth-rounder) for a first-round choice and a sixth-rounder. And, in 2017, the Saints traded Cooks to the Patriots for a first- and third-round pick. It's not unusual for players on the NFL fringe to cycle through teams, but Cooks had the rare distinction of being simultaneously desirable and very much tradable.
In 2018, his first year with the Rams, Cooks managed a career-high 1,204 receiving yards. Things were going well for all parties in L.A. — Cooks helped the Rams reach the Super Bowl and he had a contract to match his performance, a pricey five-year, $81MM extension with $50.5MM locked in. Then, in 2019, Cooks capped his year with just 635 yards. The most troubling part was that he suffered yet another concussion, which sidelined him for two games.
Cooks' talent has never been in question, but his health history was another story. The Rams were now in a difficult spot, with millions and millions of dollars committed to Cooks through 2023. The deal left them with $21.8MM in dead money and less draft capital than they gave up just a couple years prior. The Texans got Cooks and the rest of his contract — an $8MM base salary in 2020, followed by $12MM, $13MM, and $14MM through 2023.
The Rams went on to turn that pick into Van Jefferson. The wide receiver out of Florida was used sparingly in the regular season, catching 19 balls for 220 yards and one touchdown. All in all, he was targeted just 31 times with 118 special teams appearances. On the plus side, he flashed in the playoffs with six grabs for 46 yards and one TD vs. the Packers. Aaron Rodgers & Co. came out on top, but Jefferson gave a glimpse of what could be in store.
Cooks went on to turn 81 receptions into 1,150 yards and six touchdowns for the Texans. In an otherwise tumultuous year, he was a bright spot. Now, they'll count on him and Randall Cobb to keep the chains moving with Will Fuller out of the picture. If Cooks stays concussion-free, the trade will go down as a clear win for the Texans, even as their quarterback situation remains murky.
Photo courtesy of USA Today Sports Images.