Hoops Rumors is breaking down the 2019 offseason for all 30 NBA teams, revisiting the summer's free agent signings, trades, draft picks, departures, and more. We'll evaluate each team's moves from the last several months and look ahead to what the 2019/20 season holds for all 30 franchises. Today, we're focusing on the Houston Rockets.
Signings:
Standard contracts:

Nene: Two years, $20MM. Second-year non-guaranteed. Minimum base salaries; significant likely incentives. Re-signed using Bird rights.
Danuel House: Three years, $11.1MM. Re-signed using taxpayer mid-level exception.
Austin Rivers: Two years, minimum salary. Second-year player option. Re-signed using minimum salary exception.
Ben McLemore: Two years, minimum salary. Partially guaranteed ($50K; increased to $500K on opening night). Signed using minimum salary exception.
Tyson Chandler: One year, minimum salary. Signed using minimum salary exception.
Gerald Green: One year, minimum salary. Re-signed using minimum salary exception.
Thabo Sefolosha: One year, minimum salary. Signed using minimum salary exception.
Ryan Anderson: One year, minimum salary. Partially guaranteed ($250K; increased to $500K on opening night). Signed using minimum salary exception.

Two-way contracts:
Non-guaranteed camp contracts:
Trades:
Acquired Russell Westbrook from the Thunder in exchange for Chris Paul, the Rockets' 2024 first-round pick (top-four protected), the Rockets' 2026 first-round pick (top-four protected), the right to swap 2021 first-round picks (top-four protected), the right to swap 2025 first-round picks (top-10 protected), and conditional cash ($1MM).

Note: The Rockets would only owe the Thunder $1MM (and a 2026 second-round pick) if the 2026 first-round pick lands in the top four.
Draft picks:
Waiver claims:
Contract extensions:
Eric Gordon: Four years, $75.57MM. Fourth year is non-guaranteed. Starts in 2020/21; runs through 2023/24.
Departing players:
Other offseason news:
Salary cap situation:
Remained over the cap.
Carrying approximately $141.2MM in salary.
Approximately $1.3MM over the tax line after removing Nene's incentives.
$2.72MM of taxpayer mid-level exception still available ($3.54MM used on Danuel House).
Seven traded player exceptions available; largest TPE ($3.62MM) expires 2/7/20.
---
Story of the summer:
In the 2018 playoffs, an unfortunately-timed Chris Paul injury helped sink Houston in the Western Conference Finals and derailed what could have been a title run. In 2019's rematch with the Warriors, it was Golden State dealing with a potentially devastating injury to a star, as a Kevin Durant calf strain opened the door for Houston to exact its revenge.
Even playing at home against a Durant-less Golden State team in Game 6 of the Western Semifinals though, the Rockets couldn't pull out a victory. And after suffering yet another postseason defeat at the hands of the Warriors, Houston went soul searching.
Reports swirled early in the offseason that the relationship between James Harden and Paul was becoming increasingly untenable. Trade rumors surrounded nearly everyone Rockets player except Harden, with Clint Capela seemingly on the verge of being dealt at one point as Houston pushed to land Jimmy Butler.
However, the break-up of the Warriors at the start of the free agent period was a game changer. With Kevin Durant headed elsewhere and Klay Thompson having just undergone ACL surgery, the Western Conference suddenly looked a little more wide open.
It wouldn't take a drastic overhaul of the Rockets' roster to make the team a legit championship contender after all. No team besides the Warriors had defeated Houston in the postseason since 2017. With the Dubs defanged, why couldn't the Rockets emerge as the new frontrunner in the West?
Of course, with would-be contenders in Utah, Denver, and Los Angeles loading up at the same time, simply standing pat wouldn't necessarily put the Rockets in position to fill the power vacuum in the West. So just when it looked as if a wild week or two of player movement was winding down, general manager Daryl Morey went out and made a splash of his own, sending Paul to the Thunder in a trade for Russell Westbrook.
It's still not clear how much the reported tension between Harden and Paul factored into the move — Morey has denied it was a factor and downplayed the notion it even existed in the first place. But at this point, the more pressing question is how the pairing of former MVPs in the Rockets' backcourt will work. Houston faced similar questions after the acquisition of Paul in 2017 and ultimately quieted those skeptics, but Westbrook isn't the shooter that CP3 is, and he's one of the only players in the NBA who is as ball-dominant as Harden. It'll make for a fascinating merger.
Of course, you could argue that the real story of the Rockets' summer was what happened in the fall, when Morey created an international incident with a brief, quickly-deleted tweet in support of Hong Kong protestors. Houston has long been the most popular franchise in China due to Yao Ming's stint with the team, but Morey's well-meaning message in support of human rights may changed that in one fell swoop.
It could be months or years before we have a real idea of how that one tweet impacted the Rockets and the NBA financially, but for now Morey and the team have gone mum on the issue, hoping to shift fans' focus to what's happening on the court.
Key offseason losses:
Although many of their role players hit free agency this summer, the Rockets only ended up losing a couple of them, since most re-signed.
Iman Shumpert, acquired at last year's trade deadline, was one of the two to walk, despite Houston's efforts to bring him back. Shumpert is the kind of tough perimeter defender who fits in well with the Rockets, but his three-point shot wasn't reliable after he left Sacramento, where he shot 36.6% from beyond the arc. He made fewer than 30% of his three-point attempts down the stretch for Houston.
Kenneth Faried, who was working on developing a three-point shot of his own, mostly occupied the kind of rim-running role that Capela typically plays, and did well in that role, averaging 12.9 PPG and 8.2 RPG in 24.4 minutes per contest. However, he was in and out of the rotation in the second half and barely played at all in the postseason.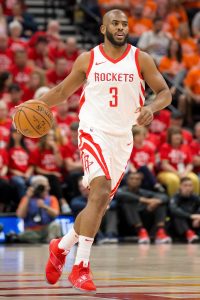 The most impactful offseason loss for the Rockets will be Paul, who was still playing well even as injuries limited him to just 58 regular season appearances in each of two seasons in Houston. He was particularly effective in 2018/19 when Harden was on the bench — CP3 posted a net rating of +10.4 with Harden sitting, compared to a +7.4 net rating when the two guards shared the court.
Still, Paul will turn 35 next May and his contract was one of the least team-friendly deals in the NBA, increasing to $44MM+ in 2021/22, his age-36 season. Westbrook's deal has the same cap hits as CP3's and runs for an extra year, but he'll only be 34 years old by the time it expires, so the Rockets are hoping to get better value out of his remaining prime years.
Key offseason additions:
Westbrook has never been a particularly strong shooter, but his .428/.290/.656 line in 2018/19 was among the worst of his career. Fortunately, he made up for it by averaging a triple-double (11.1 RPG, 10.7 APG) for a third consecutive season and by putting relentless pressure on opposing defenses.
While the Rockets will try to convince Westbrook to cut back a little on his mid-range shot attempts, the team is intrigued by his ability to push the pace, something Houston didn't do a whole lot last season. Westbrook is among the best passers in the NBA, and could help create a few extra transition looks for his new teammates.
Even though Westbrook's contract is a little more favorable than Paul's, it doesn't take much of a drop-off for the value of those super-max deals to dip. With four years still left on Westbrook's contract, a major injury or decline in productivity would leave Houston stuck with a bad asset. Keeping that in mind, it will be interesting to see just how long the Rockets give the Harden/Westbrook partnership to succeed. In this era of constant player movement, it would actually be a bit surprising if both players are still on the roster by the time their contracts expire in 2023.
The Rockets' other roster additions this summer were minimum-salary free agent signings — Tyson Chandler and Ryan Anderson join the frontcourt, with Ben McLemore and Thabo Sefolosha on the wing.
Chandler and Anderson offer significantly different skill sets, but neither player should have a problem acclimating to the Rockets' style of play. Anderson, a floor-spacing stretch four, previously spent two years with the club, while Chandler is an 18-year veteran who knows by this point what role teams will ask him to play — he's in Houston for his defense, rim protection, and rebounding, and won't be expected to contribute much on the other end of the floor.
McLemore – whose salary for 2019/20 still isn't fully guaranteed – and Sefolosha are low-risk acquisitions who don't figure to play major roles unless they force the issue and prove they deserve regular minutes. Of the two, Sefolosha has the stronger track record, having shown in the past that he can be a three-and-D contributor for playoff teams. We'll see if he's still capable of doing so at age 35.
Outlook for 2019/20:
The Rockets won 118 games over the last two years. During that time, they came closer than any team besides the 2019 champion Raptors to ending the Warriors' dynasty. With that Warriors' dynasty at least on hiatus, if not over altogether, Houston is bringing back a roster featuring most of the same key pieces, with Westbrook replacing Paul in what should be considered an upgrade. There's no reason Houston shouldn't be among the handful of teams capable of winning a championship in 2020.
Still, there are some worrisome storylines. This is the oldest roster in the NBA. Mike D'Antoni's lame-duck status is odd, as is Tilman Fertitta's apparent aversion to the luxury tax. And the franchise's suddenly-frosty relationship with its Chinese partners could become a distracting ongoing saga.
In a competitive Western Conference, it wouldn't be a total shock if the Rockets finish outside the top four and are eliminated in the first round, but that's probably a worst-case scenario. If everything breaks right, this is still a team with championship upside.
Salary information from Basketball Insiders was used in the creation of this post. Photos courtesy of USA Today Sports Images.