With the NBA's February 10 trade deadline around the corner, we're taking a closer look at all 30 teams, breaking down their potential plans for the deadline and identifying their most likely trade candidates. We're focusing today on the Southwest Division.
---
Dallas Mavericks
Trade deadline goals:
The Mavericks don't have a single glaring hole on their roster, but could use some extra reinforcements at any number of spots.
It wouldn't be a shock to see Dallas try to acquire another wing to replace the injured Tim Hardaway Jr.; or an extra big man as Kristaps Porzingis insurance; or even one more guard who can shoot, such as buyout candidate Goran Dragic.
The Mavs probably aren't just one player away from legitimate title contention — or if they are, they don't have the assets necessary to make a good deal that one player. So anything they do at the deadline will probably be about taking an incremental step forward. Ideally, they'd find a player who fits well alongside Luka Doncic and who can make the roster a little more dangerous in the playoffs.
Top trade candidates: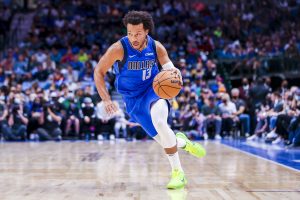 Any team that discusses trades with the Mavericks will likely want to talk about one of two players: Jalen Brunson and Dorian Finney-Smith. They're not exactly young prospects anymore – Brunson is 25 while Finney-Smith is 28 – but both players remain very much in their prime, have small cap hits, and are solid two-way contributors who would fit in just about any system. They'll be unrestricted free agents this summer, but acquiring their Bird rights may appeal to a capped-out team.
The Mavs are in a tricky spot with Brunson and Finney-Smith. The team has insisted it wants to retain them and re-sign them this summer, but both guys may be in line for eight-figure raises, pushing Dallas into tax territory without even adding a single piece to the current roster. On the other hand, trading either player comes with its own risk — no Maverick besides Doncic has played more minutes than Brunson and Finney-Smith this season, so they've been important parts of the team's success.
If the Mavs aren't willing to move Brunson or Finney-Smith, their trade assets are limited. Hardaway isn't a viable trade chip due to his injury and his contract. Dwight Powell and Reggie Bullock have been playing well as of late, but their multiyear guarantees will make some teams wary — they probably have marginal positive trade value, at best. Maxi Kleber, whose $9.2MM salary for next season is non-guaranteed, could be a trade candidate, though he has battled injuries this season, which may hurt his value.
Perhaps Dallas could drum up a little interest in a package that includes some combination of Josh Green, Sterling Brown, Trey Burke, Moses Brown, and a future first-round pick (the next one the Mavs can unconditionally trade is their 2027 first-rounder), but that won't be enough to land an impact player.
---
Houston Rockets
Trade deadline goals:
The full-scale rebuild that began when the Rockets traded away James Harden a year ago remains a work in progress.
At 15-39, Houston is in last place in the Western Conference and remains very much in contention for a top spot in this year's draft lottery. They won't be making any trades that benefit the team more in the short term than the long term — asset accumulation is still the goal here.
Of course, there are no trade candidates on the current roster who are as valuable as Harden was last year, but the Rockets still have a handful of veterans who will generate real trade interest, along with a couple other vets who will be more challenging to move.
Top trade candidates:
Let's start with Houston's most valuable trade candidates — Christian Wood is averaging a double-double while knocking down 37.4% of his three-pointers this season, making him an intriguing option for any team in need of frontcourt help.
Wood, who is under contract through 2022/23, won't come cheap though. I'd expect the Rockets to seek multiple first-round picks – or the equivalent in young talent – in exchange for Wood. If no one is willing to meet that price, Houston will probably be comfortable hanging onto Wood and revisiting trade scenarios in the offseason.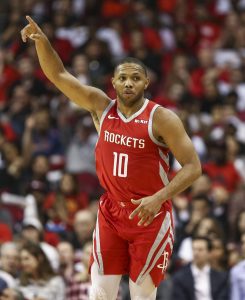 Veteran shooting guard Eric Gordon is enjoying a career year at the right time, knocking down 49.1% of his shots, including 42.7% of his threes, through 45 games. Gordon's $18.2MM cap hit this season and his $19.6MM salary for next season will still be a little high for some teams' liking, especially since he'll turn 34 later this year. But I think the Rockets have a legitimate shot at getting a first-round pick for him, which I wouldn't have expected entering the season.
Veteran center Daniel Theis hasn't been at his best during his first year in Houston, but he has still drawn some interest from teams in need of a big man, based on his track record. Jae'Sean Tate would be popular if the Rockets made him available, but there's no indication that has happened. Tate may be part of the club's longer-term plans.
Of course, Houston would love to find new homes for point guards John Wall and D.J. Augustin, but they aren't interested in giving up assets to make a deal happen. That essentially rules out a deal for Wall, whose $47.3MM player option for 2022/23 kills his value.
At $7MM, Augustin is a more realistic trade candidate, especially since he has been solid in his limited minutes. But unless Houston wants to take back multiyear money, it might be a challenge to acquire anything of real value for the veteran.
---
Memphis Grizzlies
Trade deadline goals:
The Grizzlies have been one of the best stories of the 2021/22 NBA season. After sneaking into the playoffs in '20/21, Memphis has emerged as a serious threat to secure a top-three seed and to win a postseason series this year.
The Grizzlies control their own 2022 first-round pick and Utah's, and would receive a third first-rounder if the Lakers' pick falls between 11 and 30. With an ascendant roster and an excess of draft picks, you could make the case that the time is right for Memphis to make a major move at the trade deadline and push for a deep playoff run.
Still, it doesn't appear that's the plan for the Grizzlies, who have hardly been mentioned in trade rumors in the weeks leading up to Thursday's trade deadline. Whether they don't want to risk upsetting their chemistry, don't feel they're ready to push their chips into the middle, or want to wait until the offseason to see where their first-round picks land, the Grizzlies seem more inclined to stand pat than to take a big swing.
A smaller move remains possible. If Memphis makes a deal, the team will likely focus on fortifying its depth on the wing.
Top trade candidates:
Former lottery pick Jarrett Culver has occasionally flashed a little upside, particularly on the defensive end, but he's not part of the Grizzlies' rotation and will be an unrestricted free agent this summer. His $6.4MM expiring contract could be a logical salary-matching piece in a minor move. Culver wouldn't have more than neutral trade value, but it's possible he'd draw a little interest from a lottery team interested in taking a flier on him.
Big man Xavier Tillman is another young player who has shown some promise but doesn't have a place in Memphis' current rotation. He's on a minimum-salary contract, limiting the Grizzlies' options with him unless they attach him to another player.
Unlike Culver and Tillman, reserve guard De'Anthony Melton and forward Kyle Anderson do play regular minutes, so the Grizzlies will be less motivated to move them. But if Memphis seeks out a more significant upgrade on the wing, Melton ($8.8MM) and Anderson ($9.9MM) would be the most logical trade candidates among the higher-salaried players on the team's books.
---
New Orleans Pelicans
Trade deadline goals:
New Orleans had spent the entire season outside of the top 10 in the Western Conference until finally moving into 10th place for the first time on Sunday. Despite their underwhelming first-half performance, the Pelicans were in the market to buy in the weeks leading up to the deadline and found a deal they liked on Tuesday, acquiring CJ McCollum in a seven-player trade that also included three draft picks.
It was a logical move for the Pelicans, who had been on the lookout for backcourt help after Kira Lewis sustained a season-ending knee injury and former first-round pick Nickeil Alexander-Walker took a step backwards in his third NBA season.
McCollum is a reliable veteran capable of creating his own shot who will help Brandon Ingram and Jonas Valanciunas carry the offensive load. The deal makes the Pelicans an odds-on favorite to make the play-in tournament in the West, whether or not Zion Williamson returns in the second half.
Now that the Pelicans have already achieved their primary trade deadline goal of acquiring an impact backcourt player, it remains to be seen whether they'll have anything else up their sleeves this week as they try to further fortify their roster in the hopes of pushing for a playoff spot.
Top trade candidates:
After trading away Josh Hart, Tomas Satoransky, Didi Louzada, and Alexander-Walker in the McCollum deal, the list of viable Pelicans trade candidates has dwindled.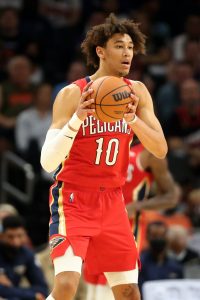 Third-year big man Jaxson Hayes remains a possible trade chip, but New Orleans has reportedly been encouraged by his recent play at power forward, and his legal issues will negatively impact his trade value. The Pelicans may be better off hanging onto Hayes.
Garrett Temple has averaged about 20 minutes per game this year for New Orleans despite having one of the worst shooting seasons of his career (.382 FG%, .319 3PT%). If they can find a way to upgrade on the wing using Temple as a trade chip, the Pelicans would probably welcome the opportunity.
Larry Nance Jr., who New Orleans received in the McCollum deal, is another player worth watching. As long as Williamson remains sidelined, Nance – once he's healthy himself – will have a role in the Pels' rotation, so I imagine he's not a real candidate to be flipped this week. But the team's frontcourt will be pretty crowded if and when everyone's back, so Nance could eventually be the odd man out. That's probably an issue the Pelicans will wait until the offeason to address.
Finally, it's worth noting that even after sending a first-round pick and two second-rounders to Portland in the McCollum deal, the Pelicans is well-stocked with future draft picks as a result of the Anthony Davis and Jrue Holiday trades. They could dangle another pick or two in trade discussions this week if there's another player they like.
---
San Antonio Spurs
Trade deadline goals:
The Spurs rarely make in-season trades. Entering the 2021/22 league year, they'd completed just two deals during the season since 2012, and neither one had much of an impact on their roster.
However, San Antonio has already made one trade this year, sending Bryn Forbes to Denver last month in a three-team deal in exchange for Juan Hernangomez, a future second-round pick, and cash.
Did that trade signal an increased willingness from San Antonio to make moves before the deadline? Or is expecting more than one in-season trade from the Spurs misguided?
It's still too early to say, but if the Spurs stand pat at the deadline, it won't be due to a lack of interest in their players. They've reportedly gotten calls on Derrick White, Dejounte Murray, Jakob Poeltl, and Thaddeus Young, among others.
Top trade candidates:
Murray is almost certainly off the table, but it's not out of the question that the Spurs could move White, Poeltl, or Young.
Of the three, Young is the least likely to finish the season in San Antonio. The veteran forward hasn't been a regular part of the Spurs' rotation and is on an expiring $14MM+ contract. He has reportedly generated interest from Minnesota and Phoenix, and I imagine the Spurs would be eager to move him if they can get a second-round pick without taking back any multiyear money. If that sort of offer doesn't emerge, Young will be a post-deadline buyout candidate.
Poeltl has reportedly generated interest from at least the Raptors, Bulls, and Hornets, but he's having a very good season and is on an extremely team-friendly contract. It would likely take a pretty strong offer for the Spurs to seriously consider a deal — one report stated they'd want a first-round pick and a quality young player, which sounds about right.
I also wouldn't expect the Spurs to move White during the season, but he at least seems more attainable than Murray, who was named to his first All-Star Game this week. Veteran sharpshooter Doug McDermott, who is hitting 43.5% of his three-point attempts, would likely be a popular target if San Antonio makes him available, but there has been no indication that he's on the trade block.