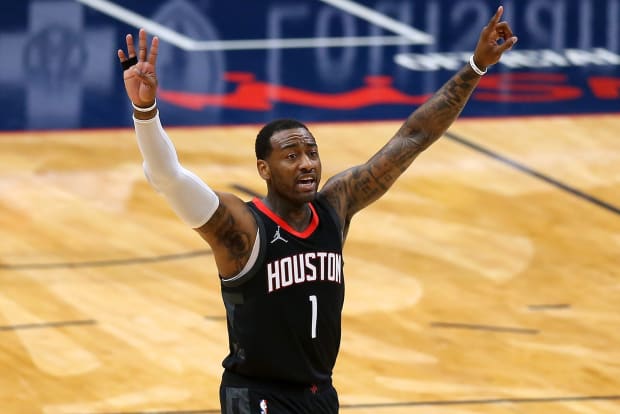 Before the 2021-22 NBA season started, the Houston Rockets decided that John Wall wouldn't play because they'd try to find a trade partner for him. Fast forward to late November, and it appears no team is willing to trade for Wall because of his hefty contract.
Since there hasn't been much traction on the trade market, the Rockets may have to reconsider their plans for Wall this season.
According to ESPN insider Adrian Wojnarowski, Wall expressed his hopes to the Rockets that he can play for them in the near future.
"Houston Rockets guard John Wall has expressed his hopes to the organization that he can resume playing for the team in the near future, sources tell ESPN," Wojnarowski wrote on Twitter. "Story soon."
Wojnarowski added that both sides plan on meeting this Sunday to discuss Wall's potential return to the court.
"Wall and Rockets had agreed on him sitting out until a trade could be found, but the five-time All-Star guard talked to Houston general manager Rafael Stone on Friday about restarting a dialogue on a return to the active roster, sources said. Sides plan to talk again on Sunday."
Wall could still play a significant role on the Rockets if they need him to. Last season, the All-Star point guard averaged 20.6 points, 6.9 assists and 3.2 rebounds per game.
It's highly unlikely that a trade suitor emerges for Wall at the last minute, especially since he has a base salary of $44.3 million for the 2021-22 season.
At this point, the Rockets might as well just allow Wall to rejoin the team. Maybe he can teach their young core a thing or two.