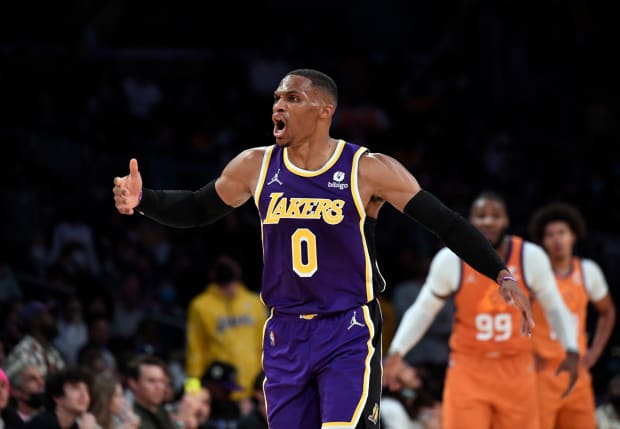 Could a Houston/Brodie reunion be imminent? In recent days, trade rumors have begun to surround All-Star guard Russell Westbrook amid the Lakers slow start to the season.
On Friday, NBA reporter Marc Stein revealed that there is at least one franchise interested in trading for Westbrook. And that's his previous team the Houston Rockets. Who are reportedly willing to swap Russ for John Wall (who has yet to play this year).
NBA Twitter was all over Westbrook's speculative trade back to H-Town.
"Please please take him man," one Lakers fan tweeted.
"Poor Russ.." replied another. Admitting, "I really hoped this would be a good fit & the ring would come."
"Trading crip Russ for blood Russ would be wild," said Boardroom's Eddie Gonzalez.
"Need John Wall and Eric [Gordon] or no deal," replied one user.
"The most hilarious aspect of this is that literally no-one aside from a small minority, most certainly not LAL fans, is able to grasp that Houston wouldn't be doing this to actually have Russ the player and the Lakers would be the ones needing to add to the deal." commented Forbes Sports' Rockets coverage RedNinetyFour.
"I honestly don't think it's surprising (the condition, of course, involves him not actually playing for them)," tweeted Ben DuBose.
Just a few weeks out from the NBA trade deadline, it appears the Lakers could pull the plug on the Russell Westbrook experiment.