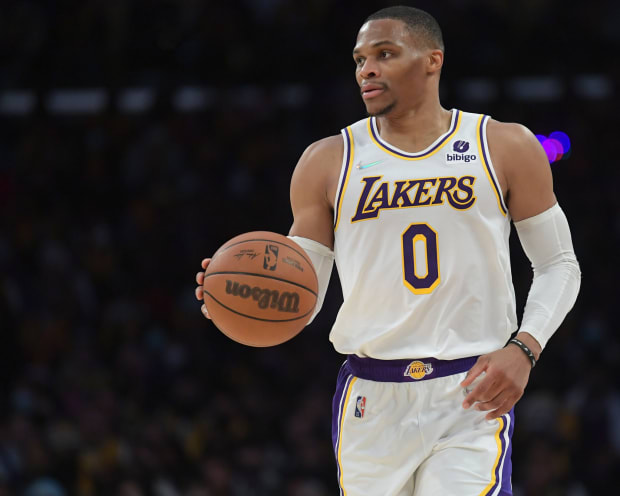 As the Los Angeles Lakers continue to stumble through their 2021-22 season, it's becoming more and more evident that Russell Westbrook doesn't mesh with the current roster.
With the NBA trade deadline approaching on Feb. 10, many fans and analyst around the league are considering the Lakers' options for a potential trade involving the 33-year-old point guard. Considering his $44.2 million owed this season and $47.1 millions owed next year, a trade for the former league MVP is "extremely unlikely."
But according to
There is at least one NBA team that would trade for the Lakers' Russell Westbrook if the conditions are right.
All explained here in my latest This Week In Basketball column: https://t.co/1OGsnIwZkk
— Marc Stein (@TheSteinLine) January 22, 2022
">NBA Insider Marc Stein, one team could be interested in a deal.
Westbrook could be in for a reunion with his former Houston Rockets squad. While the franchise reportedly has no interest in actually having the point guard play for them, they would be interested in a swap for Westbrook and John Wall if it was sweetened with "sufficient draft compensation."
"I've learned that the Rockets — while indeed holding no interest in having Westbrook play for them again — actually would be amenable to another Westbrook-for-Wall swap if the Lakers incentivized the trade with sufficient draft compensation," Stein wrote.
Westbrook and Wall were traded for one another in a deal between the Wizards and Rockets back in December, 2o20. The high salaries of each point guard (around $45 million per year) makes the contract math sensible for this potential deal. Wall has not suited up for the Rockets all season after a mutual agreement with the organization earlier this year.
After shooting 5-17 in an embarrassing loss to the Pacers earlier this week, Westbrook was benched for the final minutes of the game. Through 46 games this year, the nine-time All Star is averaging 18.5 points, 8.0 rebounds and 7.8 assists per game on 43.3 percent shooting from the field.
While this move is still unlikely, it's certainly something to keep an eye on as the trade deadline approaches.