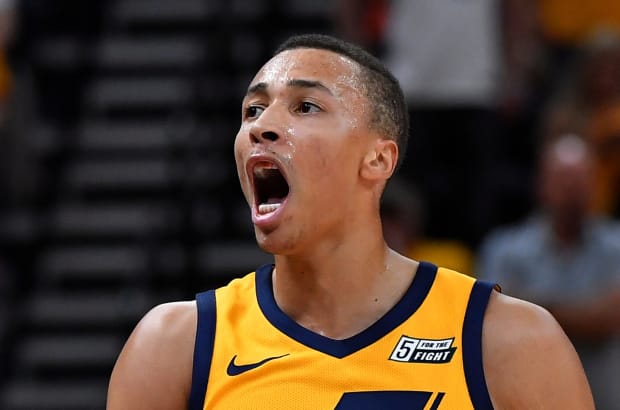 As the Houston Rockets continue their rebuild, they're set to part ways with veteran point guard John Wall. As they figure out that situation with the former Washington Wizards point guard, they're reportedly set to expand their commitment to a younger point guard on the roster.
Dante Exum was one of the many players involved in the James Harden megadeal with the Brooklyn Nets, coming over from the Cleveland Cavaliers. He did not appear in a game for the Rockets in 2021 due to injury. Still, the team is intrigued by the former No. 5 pick.
Exum entered the league with the Utah Jazz. At 6-foot-5, 214, he has the size and length to be a disruptive player in the backcourt. He hasn't put it all together as an NBA player, but the Australia native is still just 26 years old.
According to ESPN's Tim MacMahon, Houston is close to a three-year deal. The contract would be unguaranteed, but worth up to $15 million, with incentives making up a significant portion of the deal.
Exum played in just six games last year for the Cavs, starting three. He averaged just 3.8 points per game, shooting .385/.182/.500. Those numbers are ugly, though the sample size was tiny.
His best NBA season came in 2017-18 as member of the Jazz. He averaged 8.1 points and 3.1 assists while shooting over 48-percent from the field, all career highs.
Exum hasn't been particularly productive as a pro overall, but not everyone is totally out on him. One fan of the deal: front office insider Bobby Marks. He sees potential value in the former first-round pick.
Assuming Dante Exum stays with the Houston Rockets, he'll be backcourt mates with veteran guards D.J. Augustin and Eric Gordon, as well as young, dynamic scorers like Kevin Porter Jr. and Jalen Green, the No. 2 pick in this year's NBA Draft.
[
Sources: Rockets and PG Dante Exum are close to agreeing to creatively structured deal that would be three years, nonguaranteed and heavy on incentives that fall under "likely bonuses" definition. Deal would be worth up to about $15M, roughly half of which would be incentives.
— Tim MacMahon (@espn_macmahon) September 15, 2021
">Tim MacMahon]