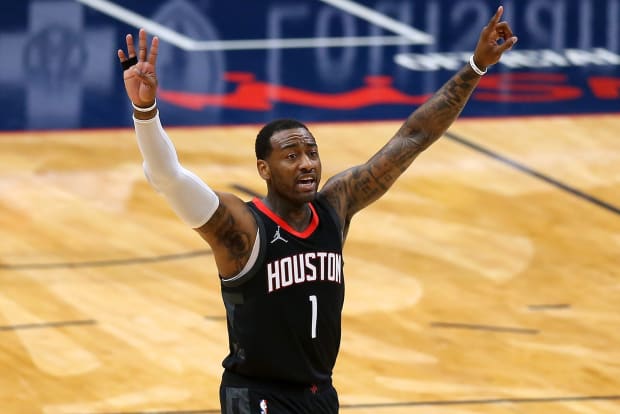 Heading into his second season with the Rockets, John Wall and the Houston franchise have reportedly agreed to work on a trade for the veteran point guard.
On Tuesday afternoon, NBA insider Shams Charania reported that trade negotiations have already begun. While the two sides figure out their next move as they head into training camp later this month, Wall will stick around the organization but not play in any games for the Rockets in 2021-22.
There are reportedly no buyout plans on the two years and $91.7 million remaining on Wall's contract.
Since these reports of Wall's inevitable departure from the Houston franchise, fans and analysts have been speculating about the five-time All Star's next landing spot.
One popular name in these discussions is the Los Angeles Clippers.
The Clippers currently find themselves with a huge need for depth at the point guard position. As of right now, veteran Reggie Jackson and second-round rookie Jason Preston are the only true point guards on the LA roster.
Heading into his 11th NBA season, Wall still has the proven ability to produce at a high level. Through this past season, the veteran PG averaged 20.6 points and 6.9 assists per game for the struggling Rockets.
In his most recent and final game with Houston, Wall lit up the Clippers for 27 points and 13 points in a narrow loss.
After this performance, Clippers star Paul George gave some insight on his relationship with Wall.
"Me and John go way back to when we first started in the league," George said, per Sports Illustrated. "He's somebody I'm going to always root for. He's a brother to me, and I couldn't be more happy to see him back on the floor and doing what he loves to do, and continuing to make those plays that everyone loves him for."
With this close personal relationship, Wall makes perfect sense as a another veteran weapon to pair alongside George and fellow star Kawhi Leonard.